Shares of FCA regulated CFD broker Plus500 Ltd (LON:PLUS) traded up sharply on Friday morning, after the company announced a planned $10 million share buyback, strong cash levels, and healthy Revenues growth so far in Q2.
First, Plus500 announced that trading activity during Q2 has continued on a positive trend as outlined in Plus500's first quarter trading update issued at the end of April.
Specifically (but without giving exact figures), Plus500 stated that compared to the first quarter, in subsequent trading revenue in Q2 (which is about two-thirds over) has been stronger and profit margins have been maintained. This is despite considerably lower levels of volatility as measured by the VIX Index than in the same period of 2016.
We would remind LeapRate readers that Plus500 had a fairly strong (but not record) Q1, with Revenues of $77.5 million.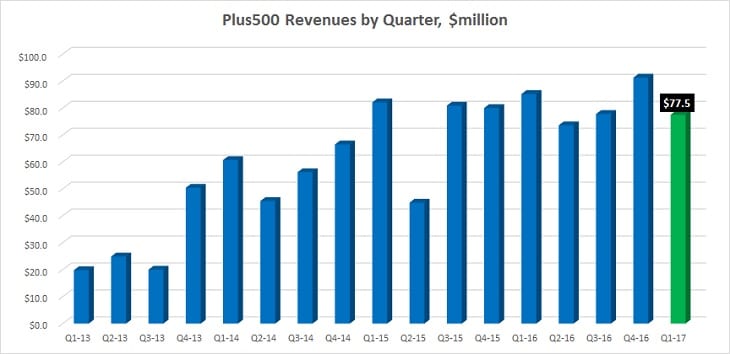 Plus500 reported that its net cash balance stood at approximately $191 million as at May 31, 2017 – a significant increase since Plus500 last reported cash of $136 million as at December 31. This includes a total of $75 million due to be paid out in dividends (final and special) on July 3, 2017, part of Plus500's base 60% pay-out ratio dividend policy.
On the regulatory front, Plus500 indicated that none of the regulatory changes announced in various jurisdictions in which the Company operates (UK, Cyprus, Germany, France…) has had a material impact on trading performance. And, like the rest of the leading UK CFD brokers, Plus500 is awaiting the outcome of the FCA consultation, which the company stated could affect the second half of 2017.
Last, Plus500 stated that it is initiating a share buyback programme, with the Board has approving a buyback of up to $10 million of the company's shares. Share purchases will take place in open market transactions. Plus500 has appointed Liberum Capital Limited to manage the programme.
The buyback programme will run from today through to August 31, 2017. The maximum number of shares that may be acquired pursuant to the buyback programme is 11,488,837, which, in line with UK market practice, represents 10% of the company's issued share capital.
As noted above, the combined announcements have sent Plus500 shares up by about 9% today. Plus500 shares, at about £5.65, are up nicely from below £4 at the beginning at the year, but are still well below where they were trading late last year. Shares of Plus500, alongside those of other UK Forex and CFD market leaders such as IG Group Holdings plc (LON:IGG) and CMC Markets Plc (LON:CMCX), were hit hard and nearly cut in half after UK regulator The FCA proposed new rules governing leveraged trading, including a hard 50x leverage cap on new and existing positions. The FCA has yet to announce its final decision, as noted above, receiving a deluge of industry and trader input after the proposals were announced.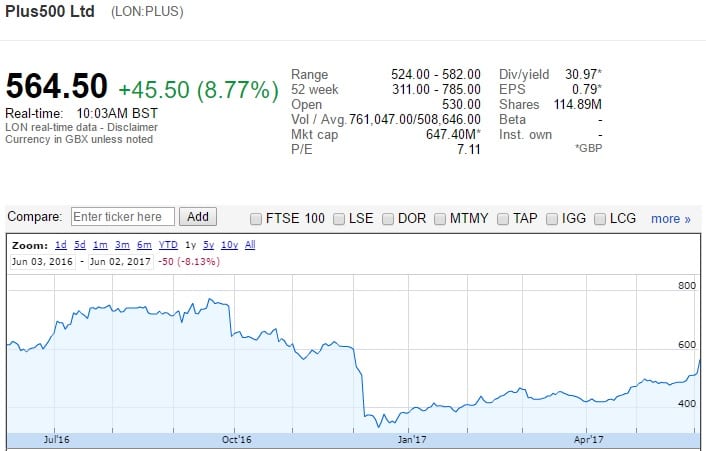 Plus500 one-year share price graph. Source: Google Finance.