All we can say is: Wow!
Yes folks, the graph below is not in error. After posting several consecutive quarters of record revenues above $100 million, FCA regulated CFDs broker Plus500 Ltd (LON:PLUS) has reported one of the most astonishing financial reports we've ever seen here at LeapRate.
Revenues more than doubled from Plus500's best ever previous quarter (Q4-2017) to come in at an amazing $297.3 million in Q1-2018. Most of the increase went right to the bottom line, with Q1-2018 EBITDA of $237.3 million.
Plus500 said that the increase in revenues was derived from a significant increase in both new and active customers – with both those segments being driven by cryptocurrency trading.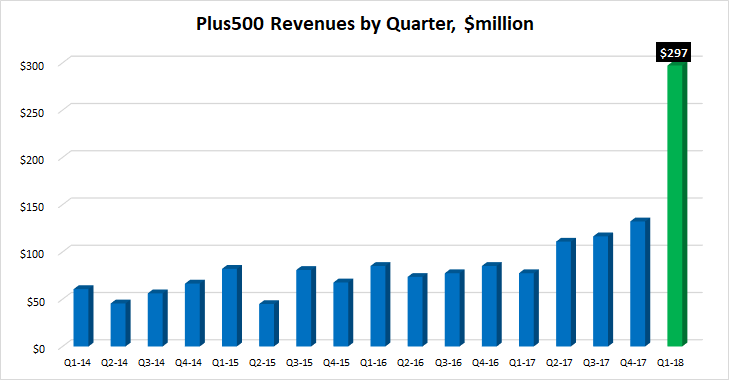 Stock market investors had clearly been expecting a good quarter from Plus500, but perhaps not this good. Plus500 shares had been bid up over the past few weeks, moving up 40% from the £10 range in late March to an all time high of just over £14 by the end of April.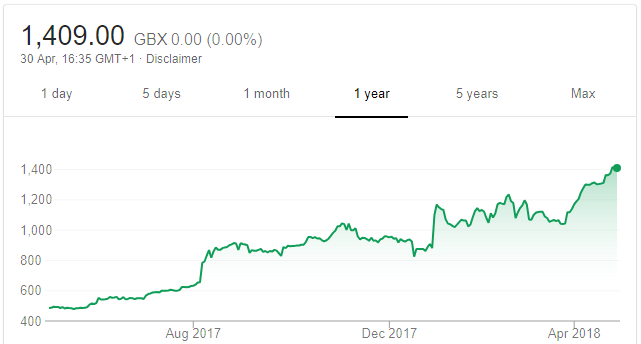 Plus500 share price, past year. Source: Google Finance.
As far as outlook goes, the company said that the very strong start to the year resulted from a period of relatively volatile markets and high levels of interest in the company's cryptocurrency CFDs offering, and in turn encouraged high levels of new customer sign ups and record trading in Q1-2018. Plus500 did state that it has since seen market conditions return to 'more normal levels' in the last two months. As such, Plus500 does not expect such an exceptional performance to be repeated in the remainder of the year.
On the regulatory front, Plus500 has yet to see the impact of ESMA's proposed changes and its performance could be further impacted by the rate at which customers opt to be reclassified as professional investors. The board will continue to assess the potential impact of these changes on future years performance once all changes are fully operational. The board believes that Plus500's highly flexible business model, relatively low cost base and global diversification with seven licenses in different jurisdictions, five of which are outside Europe, provides confidence in the company's future prospects.
As a consequence, the board has increased its expectations for the Group's financial performance for the year.
Asaf Elimelech, Chief Executive Officer of Plus500, commented:
We are pleased to announce another record period in terms or revenues and profits; the results for this quarter reflect our competitive advantages and focus on serving our customers' trading needs.

Having a flexible business model and a lean cost structure, enables us to optimise our performance as necessary despite the recently announced regulatory changes. Having the industry leading framework enables us to be confident about the future.
Some more of the fine data from Q1-2018 at Plus500:
Record revenues and earnings
 Q1 2018 revenues were $297.3m, an increase of 284% compared to the same period last year;
EBITDA margin has continued to be strong, resulting in an EBITDA of $237.3m for the period;
Q1 2018 revenues represented 68% of FY2017 revenues as a whole;
Q1 EBITDA represented over 90% of FY2017 EBITDA as a whole;
Q1 2018 revenues were over 120% higher than previous record quarter.
Operational KPIs
218,187 Active Customers, a 204% increase compared to Q1 2017;
72,960 New Customers, reflecting the Group's competitive advantage to react quickly to dynamic market developments, and market volatility;
AUAC decreased by 45% compared to Q1 2017 due to continued efficiency in marketing spend;
ARPU increased by 26% due to an increased level of customers' activity.
| | | | | |
| --- | --- | --- | --- | --- |
| | Q1-2018 | Q1-2017 | Growth | FY-2017 |
| Revenues | $297.3m | $77.5m | 284% | $437.2m |
| EBITDA | $237.3m | $45.8m | 418% | $259.2m |
| New Customers | 72,960 | 22,210 | 228% | 246,946 |
| Active Customers | 218,187 | 71,827 | 204% | 317,175 |
| ARPU | $1,363 | $1,080  | 26% | $1,379 |
| AUAC | $502 | $907 | (45%) | $474 |
The increase in revenues was derived from the significant increase in New and Active Customers. As stated in the Company's preliminary results issued in February 2018, there was significant customer growth in the fourth quarter of 2017, which continued in Q1 of this year, thereby contributing more fully to revenues. ARPU benefitted from the same trends and from relatively volatile markets which encouraged trading activity.
The decrease in AUAC reflected interest in cryptocurrencies as in the previous quarter. Since the end of February this interest has subsided. There have also been revised policies for marketing activity through certain online channels that may reduce customer acquisition. Plus500 expects both of these to cause a return to AUAC and sign-ups at more normal levels.