Leading online CFDs broker Plus500 Ltd (LON:PLUS) has issued its Trading Update for the end of 2017, indicating that the company will report a record quarter for Q4 in terms of Revenues.
We would remind our readers that in Q3 Plus500 reported what we called a 'monster' quarter, with then-best-ever Revenues of $116.5 million, EBITDA of $70 million and Net Income of $52.5 million. So, it looks like Q4 will top even that, at least on the top line.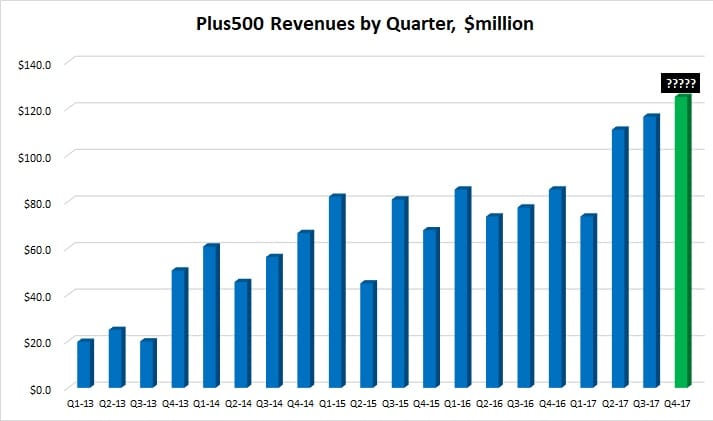 Without giving away too much in terms of specifics, Plus500 attributed a good part of the increase to cryptocurrency trading. Plus500 was one of the first online brokers to introduce crypto trading, back in 2013 when Bitcoin came on the scene.
We would also note that Plus500, alongside some of its key publicly traded competitors including IG Group Holdings plc (LON:IGG), had its share price hit fairly hard in mid December, when pan-European financial regulator ESMA unveiled plans (or at least a proposal) to cut maximum leverage allowed in Forex and CFD trading throughout the EU to 30x. Plus500's share price has mostly recovered already from the 13% hit its shares took on the ESMA announcement. ESMA is expected to follow through on its initial proposals later in Q1.
The full statement issued today by Plus500 reads as follows:
---
03 January 2018
Plus500 Ltd.
Post-Close Trading Update
Plus500, a leading online service provider for retail customers to trade CFDs internationally, is pleased to announce that the strong momentum in both trading and attracting new customers continued through to the year end. Record quarterly revenues were achieved in the final quarter of 2017 and approximately 246,000 new customers joined during the year (FY 2016: 104,432), which is another record for Plus500.
Accordingly, the Board anticipates revenues and profits for the year ended 31 December 2017 will be ahead of market expectations.
Plus500 has experienced strong volumes in crypto currency CFDs and has seen increased interest throughout the year in a category which we introduced in 2013. The Company's broad offering enables customers to participate in the volatility of multiple crypto currencies, without owning the underlying asset. Plus500 remains focused on risk management which includes setting appropriate risk and leverage for all the instruments traded on its platform
The Company expects to report its preliminary results for the financial year ended 31 December 2017 before the end of February 2018.
Asaf Elimelech, Chief Executive Officer of Plus500, commented:
We are pleased to announce another strong period in both revenues and profits. Momentum in the business has continued to be strong with increased interest in our crypto currency CFD offering and record new and active customer numbers, demonstrating our ability to serve our customers' trading needs through product innovation and technology leadership.