MetaTrader 4 for Desktop, Web, Android and iOS, MetaTrader 5
Exness allows all registered traders to refer new clients via a unique partner link, compensation reaches up to 25% of the spread on transactions performed by every signed-up client.
Depending on performance, Exness may invite a referral partner to increase rewards on personalized conditions and consider the prospects of a new partnership as a forex introducing broker (IB) for Exness.
---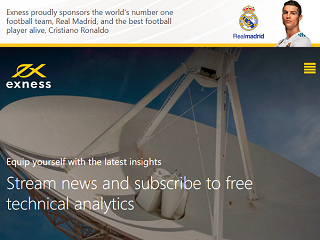 Exness Group is an international, award-winning retail forex broker founded by a group of like-minded finance and IT professionals in 2008. The group comprises of Exness Limited (VC), Exness Limited (NZ), Exness (CY) Limited, EXNESS (UK) LTD, and Exness LLC (Russian Federation).
With a deep understanding of traders' needs, the modern forex company provides accessible, stable, and reliable brokerage services with some of the tightest spreads and excellent execution in the market today. As confirmed by Deloitte, Exness Group recorded a trading volume exceeding USD $3.2 trillion in 2017, and a new monthly trading volume record of USD $334 billion in January 2018.
Clients of Exness Group also enjoy excellent trading conditions, including spreads as tight as 0.1, leverage up to 1:Unlimited, as well as high level of service such as 24/7 client support, instant withdrawal of profits, and outstanding order execution.
In the past years the Exness Group has come a long way, becoming an industry leader: by the middle of 2014 Exness Group clients' monthly trading volume was more than 180 billion USD and the number of trading accounts opened each month by traders around the world exceeds 15,000. Currently Exness Group offers the ability to trade more than 120 financial instruments, with some of the best-on-the-market order execution and record-tight spreads for the main currency pairs.
Continuous development, guided primarily by systematic improvement of trading conditions, is the key to Exness Group's long-term and successful work. Issues concerning improving the quality of services offered at Exness Group are considered most seriously. In December 2011 Exness Group received an international certificate of compliance with ISO 9001:2008 for "Organizing Forex trading".
Clients receive unique service: our official website has been localized into 22 languages and we offer client support in 13 languages, including 24/5 support in ten languages and 24/7 support in three languages (English, Chinese, and Russian). Clients have access to 1:200 leverage, which considerably lowers margin requirements and allows trading strategies to be managed flexibly. And, of course, one of Exness Group's main advantages is the instant withdrawal of funds using a number of electronic payment systems, providing traders with around-the-clock control of their trading accounts' funds.
The traders who work successfully with Exness Group strive for continuous improvement, search for new opportunities to realize their professional potential, and want to work on a single team with a recognized leader in the financial industry.