CFD broker Plus500 Ltd (LON:PLUS) has announced its results for the first quarter of 2017, indicating a 15% dropoff in Revenues from Q4's record levels.
Revenues for Q1 at Plus500 came in at $77.5 million, versus a record $91.3 million last quarter (Q4-2016) and $85.2 million in Q1 last year.
Nevertheless, above-average EBITDA margins of 59% (still down from Q4's record 64%) meant that it will be another very successful and profitable quarter for the #2 UK CFDs broker.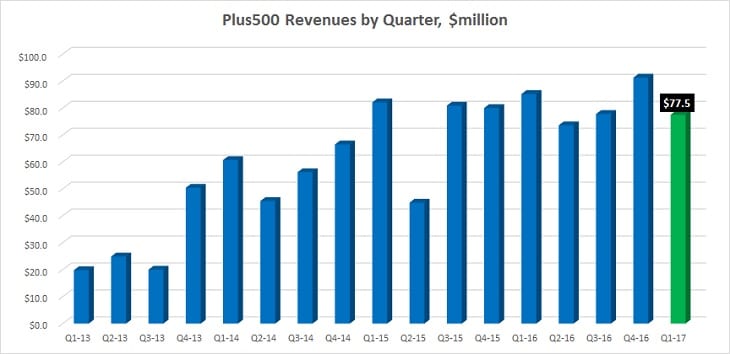 Separately, Plus500 announced that Alastair Gordon, who has acted as non-executive Chairman of the Board since Plus500's 2013 IPO will be stepping down, replaced by current board member Penelope Judd. Ms. Judd acted as EMEA Head of Compliance for both Swiss banking giant UBS (2003-2012) and Japanese bank Nomura (2013-2016). She was also Head of Equity Markets at the London Stock Exchange from 1994-2000, after beginning her career as an Accountant at KPMG.
Back to Plus500's Q1 results…. it seems that although the company continued to grow its number of active customers during the first few months of 2017 (to 71,827 in Q1), lower per-client revenues blamed on lower volatility led to the revenue drop. The company did however enjoy lower customer acquisition costs, just $907 in Q1 versus nearly $1,200 throughout 2016.
As far as Outlook goes, Plus500 stated that so far its 2017 performance is consistent with current market expectations for the full year. The Board also reaffirmed its base 60% pay-out ratio dividend policy, reflecting the company's business model of convert net earnings into cash-flow for its shareholders.
On the regulatory front, Plus500 didn't have much new to say other than it is awaiting the FCA's response to the multiple submissions made by industry participants to the UK regulator on new proposed rules governing leveraged trading.
Asaf Elimelech, Plus500 CEO commented:
Plus500 is pleased to announce a strong quarterly performance, with a significant improvement in its profitability and quality of earnings. We have reported a record increase in Active Customers, which shows the strength of and satisfaction with our trading platform. The strong quarterly EBITDA margin and significant decrease in AUAC reflect improved efficiency and targeted marketing activity and spending.

We have started 2017 positively; we are confident we can continue to expand and enhance our competitive position whilst successfully incorporating regulatory changes with the minimum of disruption.  Our strategy is supported by our strong financial position and cash generative business model, enabling us to deliver good shareholder returns despite short term regulatory uncertainty.
Plus500 Q1 metrics versus Full Year 2016 and Q1-2016:

Plus500's full Q1 results announcement can be seen here.