It is rare that a company reports a 43% quarterly drop in Revenues, but you could still call that quarter a successful and strong one.
Well that seems to be the case with Plus500's Q2 results. After surprising the markets (and anyone else who follows the FX industry) with an absolutely astounding Q1 which saw the company generate $297 million of Revenues and EBITDA of $237 million, things cooled off somewhat in Q2 at Plus500 but were still very strong by historical standards.
Q2 Revenue at Plus500 came in at $168 million, with EBITDA of $111 million. Prior to 2018, Plus500's best ever quarter (Q4-2018) was $132 million of Revenue.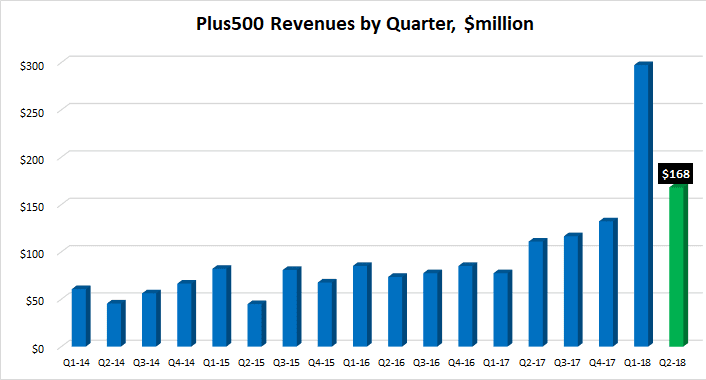 Plus500 and its UK and EU competitors are now facing the introduction earlier this month of lower regulatory maximums on CFD leverage for retail traders, as mandated by ESMA. Plus500 noted that approximately 5% of the company's overall EEA customer base has elected to become designated as 'Professional' to date, representing approximately 20% of Q2 revenues within the EEA. These clients can continue to trade with higher levels of leverage. Also, Revenue from non-EEA countries represents approximately 29% of the company's revenues.
And as far as outlook, Plus500 stated that Q3-2018 trading to date is in line with market expectations. However, it is unlikely that the exceptional performance of H1-2018 (and we'd note Q1's results in particular) will be repeated, and the impact of rule changes will potentially affect less than half of EEA revenues (30% of Group revenues) in the short term. Overall, the company is on track to meet current market expectations for 2018.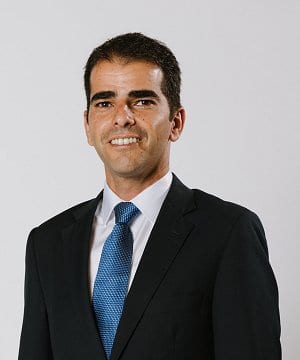 Asaf Elimelech, Chief Executive Officer of Plus500, commented:
We have had a very successful first half with two major milestones; another record set of first half results including an exceptional first quarter performance and completion of our move up to the Main Market. The strong financial performance has enabled us to declare a very significant increase in shareholders returns by declaring a generous interim dividend.

We have also made strong progress with our international diversification, within and outside the EEA, driven by our strong brand and new licences – Plus500 is now the biggest CFD Broker in the UK, Germany, Spain and Australia according to Investment Trends,9 we grew our Active Customers in Australia fivefold and started operating in Singapore.

Plus500 has implemented the recent regulatory changes and we anticipate an increased number of EPCs within European jurisdictions, complementing our growing activity outside the EEA.

Overall, our expectations are that Plus500's outstanding momentum will deliver strong year-on-year growth in 2018, in line with the market expectations.
Financial highlights for the first half of 2018 at Plus500, versus H1-2017:
H1 2018*

H1 2017*

Change

Revenues

$465.5m

$188.4m

147%

EBITDA

$349.0m

$118.5m

195%

Net profit

$261.7m

$90.7m

189%

Earnings per share

$2.30

$0.79

191%

Cash

$511.9m

$220.7m

132%

ARPU

$1,873

$1,678

12%

AUAC

$677

$836

(19%)

Operating cash flow

$272.3m

$84.5m

222%
Plus500's full press release on its first half 2018 results can be seen here.