LeapRate's Retail FX Volume Index jumps 9% in June driven by Brexit volatility
Global retail forex trading activity rose to $321 billion per day as the GBP's post-Brexit fall drove trading volumes.
July 12, 2016 – It looks like the Forex industry learned its lesson from last year's Swiss Franc spike.
June 2016 will be remembered in the Forex world as the month of Brexit, with the Leave side's surprise victory in the UK referendum driving the British Pound down by 15% against the other major currencies to its lowest level in more than three decades.
And, leading to the most volatile time for currencies since January 2015 (and the aforementioned Swiss Franc spike).
But the effects of this (sort of) surprise currency spike were much more muted this time.
With Forex brokers preaching restraint leading up to the June 23 vote, and many requiring clients to put down more margin and use less leverage, the forex trading industry functioned in a very orderly manner both before and after the referendum.
Gerald Segal, LeapRate Managing Director, commented:
While Forex trading volumes were up in June over a very slow March-April-May period, many traders held back despite the huge surge in volatility.

With traders using less leverage during the last two weeks of the months the volume increase during June was not as big as might have been anticipated at most retail and institutional eFX venues.

However as the volatility in currencies (especially the GBP and JPY) has continued to carry over into July, and trading conditions returning to normal (read: more leverage), we believe that brokers are going to enjoy a much busier and more profitable summer than usual this year.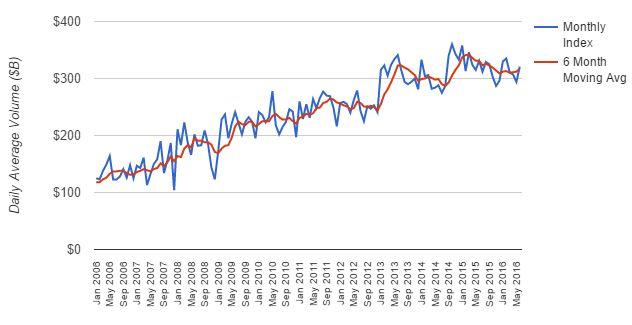 Sources: LeapRate research, monthly and quarterly volume reports of various Forex ECNs and Forex brokerage firms.
The LeapRate Retail FX Volume Index is a monthly measure of activity, stated in billions of dollars per day. It is calculated using proprietary formulas developed by LeapRate. The data input into the model are based on examining monthly and/or quarterly activity levels put out by various retail FX brokerage firms; similar activity levels announced by other FX aggregators such as Forex ECNs (e.g. Thomson Reuters, ICAP-EBS, Bats Hotspot FX) and FX settlement firms (e.g. CLS Group); as well as anecdotal evidence we encounter as part of our general research activities in the Forex sector.
About LeapRate
LeapRate is an independent research and advisory firm, covering the world of financial trading, with specialized coverage of the Forex sector. LeapRate is followed by thousands of traders, investors and other Forex Industry participants via our website, Facebook, Twitter, Linkedin, RSS, and our Forex Industry Newsletter.
Other LeapRate services include:
Forex Yellow Pages – directory of leading brokers and service providers to the FX sector worldwide.
Money Transfer – send money overseas in many currencies, for less.