CFD broker Plus500 Ltd (LON:PLUS) has reported its financial metrics for 2017, indicating record results for both the full year and for what was an amazing Q4 – plus (no pun intended), an even better start to 2018.
Overall for 2017, Plus500 brought in $437.2 million of Revenue versus $327.9 million in 2016 – an increase of 33%. Most impressive, however, was Plus500's Q4 which saw the broker report $132.3 million of Revenue, 14% above Q3. Before 2017 Plus500 had never had a Revenue quarter above $85 million.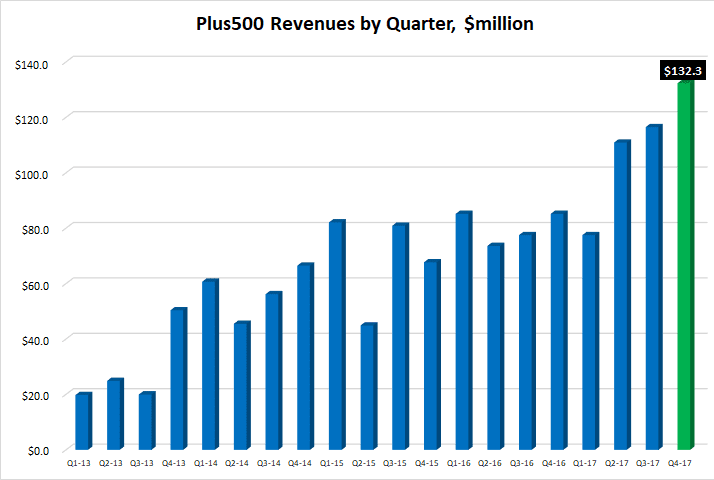 And the results also showed on the bottom line. Plus500 earned $259.2 million in EBITDA in 2017, up 72% from 2016's $151 million. Net profit for 2017 came in at $199.7 million, up 70% over 2016's $117.2 million.
Plus500 is the #2 CFD broker in the UK, behind only industry leader IG Group Holdings plc (LON:IGG). (By contrast, IG did £133 million of Revenues in its most recent fiscal quarter, or about 40% more than Plus500). And, Plus500 is very dependent on the UK and European markets, with 76% of Revenues coming from Europe.
Part of the Revenue growth, as we noted in our last report on Plus500, was thanks to cryptocurrency trading revenue. The company didn't give an exact figure, other than to say that Cryptocurrency CFDs trading represented less than 15% of total revenues. However we believe that the total is fairly close to that 15% figure, and was even higher than that in Q4.
As far as its outlook goes, Plus500 stated that it was seeing record financial KPIs in the early weeks of Q1 2018. Accordingly, at this stage the Board expects revenues for 2018 to be significantly ahead of market expectations. New customer acquisition continues to be strong in the new financial year compared to the average monthly performance in 2017. Also, the company expects to broaden its global footprint and continue to diversify revenues including adding further new licences to those recently announced, notably Singapore and South Africa.
Amazingly, Plus500 has been able to fuel its growth while continuing to lower its customer acquisition costs. Plus500's AUAC, or Average New User Acquisition Cost, was just $474 during 2017, down a whopping 60% from $1,195 in 2016.
Asaf Elimelech, Chief Executive of Plus500, commented:
We are pleased to announce record annual results which have demonstrated the significant operational leverage inherent in our business model. Our continued focus on serving our customers' trading needs through product innovation and technology leadership, combined with our successful marketing activity, has led to strong new customer sign ups, reduced churn in the second half and increased customer activity.

Plus500 retains operating licences and is regulated in the United Kingdom, Australia, Cyprus, New Zealand, Israel, South Africa and Singapore, providing a strong foundation and diversification of revenues in an ever-evolving regulatory environment.

Our safe and secure trading platform already incorporates a number of the trading controls that regulators are seeking to introduce: we were among the first to offer a trading platform where customers cannot lose more than their account balance, and in 2017, as in 2016 and 2015, there was no net gain from market P&L. The latter reflects the efficiency of our internal risk management systems and we believe it meets the expectations of the regulators that aim to prevent industry participants from being dependent on client losses. Indeed, our revenues continue to be principally derived from spreads and overnight charges.

We will continue to make the necessary adjustments to comply with regulatory changes as they are announced. Whatever the final outcome of the current ESMA and FCA proposals is, we will implement them in full and adapt accordingly.

We continue to have a highly flexible business model, a lean cost structure and geographically diversified revenues and operations that help mitigate the impact of regulatory changes on our financial performance. Overall, we anticipate that the industry will consolidate around a smaller number of larger participants, of which we believe Plus500 will be amongst the leaders.

We are confident we can continue to develop our business and expand into new markets whilst successfully incorporating regulatory changes with minimal disruption. Our strong balance sheet, cash generative business model, geographic diversification and competitive market position are expected to enable us to provide strong shareholder returns despite continuing short term regulatory uncertainty.
Plus500's full report on its 2017 financials can be found here.