Continuing its rebound from a fairly weak Q4, as well as continuing a string of strong FX trading volume reports from leading ECNs for the month of February, data from Forex ECN FastMatch shows continued growth and the company's second best ever month.
FX trading volumes at FastMatch averaged $21.1 billion daily in February 2018, up 1.6% from January's $20.8 billion, and as noted much improved from an average of $17.1 billion during all of Q4-2017.
February 2018 was FastMatch's second best month ever, slightly behind a record $22.5 billion ADV set in May 2017.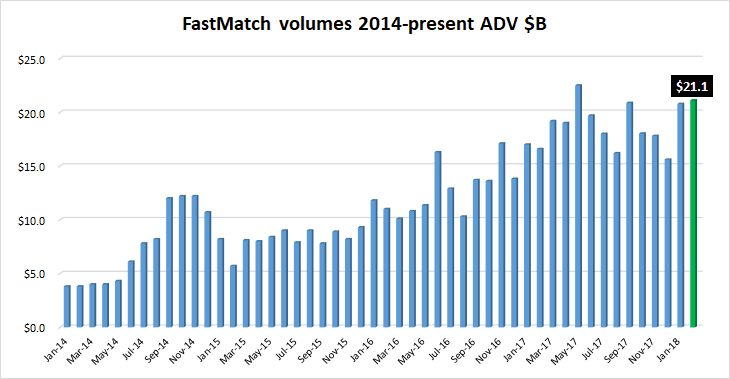 As was exclusively reported at LeapRate last week, FastMatch saw fairly weak Revenues of just €1.57 million monthly in the last few months of 2017. However, given the uptick in trading volumes, it looks like those figures will improve in Q1-2018.
FastMatch has been very active the past few months, outside of the FX volumes count. The company announced the opening of a new sales office in Greenwich CT late last year, located near some of its major customers. FastMatch also recently stated that it was opening up its FX tape data to the general public.
FastMatch also got a new look and logo (see above) in December from new owner Euronext NV (EPA:ENX). FastMatch's three shareholders – Global Brokerage Inc (NASDAQ:GLBR), Credit Suisse and BNY Mellon Corp – announced in May 2017 that they were selling 90% of the company to Euronext for $153 million. The transaction closed in mid August.