Although we haven't yet turned the calendar page from December and the New Year's Day bubbly is still on ice, FX sector trading is already done for the year.
And so, we're pleased to present an early LeapRate peek into trading volumes for the last month of of 2017.
Leading off our reports of FX trading volumes for December by leading Retail and Institutional eFX platforms, Forex ECN FastMatch data shows a third consecutive monthly decline with activity off 12% from November.
FX trading volumes at FastMatch averaged $15.6 billion daily in December, versus $17.8 billion ADV in November, $18.0 billion ADV in October and $20.9 billion ADV in September.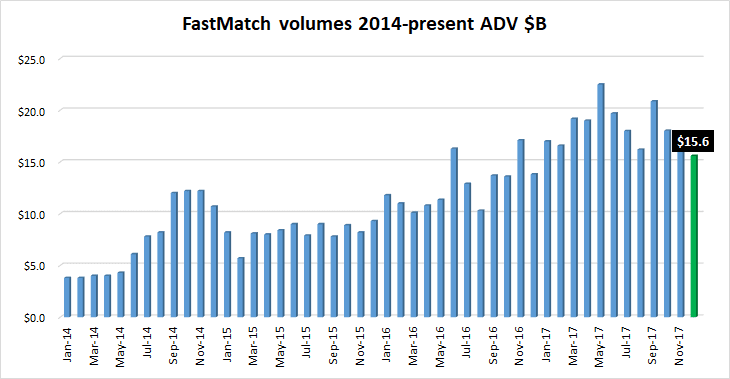 However, we would note that December is typically a slow month for FX volumes, with the market open but fairly little activity during the last two weeks of the month as the holidays take hold. Looking at just the first half of December through to and including December 15, volumes at FastMatch averaged $18.5 billion, up slightly from both October and November.
FastMatch had a fairly busy Q4 outside the FX volumes count. The company announced the opening of a new sales office in Greenwich CT, located near some of its major customers. FastMatch also recently stated that it was opening up its FX tape data to the general public.
FastMatch also got a new look and logo (see above) during December from new owner Euronext NV (EPA:ENX). FastMatch's three shareholders – Global Brokerage Inc (NASDAQ:GLBR), Credit Suisse and BNY Mellon Corp – announced in late May that they were selling 90% of the company to Euronext for $153 million. The transaction closed in mid August.