Well, it looks like FXCM will have some more money to pay back its loan from Leucadia.
Pan European exchange group Euronext NV (EPA:ENX) has announced that it has reached an agreement to acquire 90% of Forex ECN FastMatch for $153 million in cash, plus a $10 million contingent earn-out. The remaining 10% of FastMatch is owned by management.
In Q1 2017 FastMatch generated $5.8 million in revenue, up 49% compared to Q1 2016, and $2.4 million of EBITDA. FastMatch volumes have been growing steadily over the past two years, topping the $19 billion ADV level for the first time over the past two months.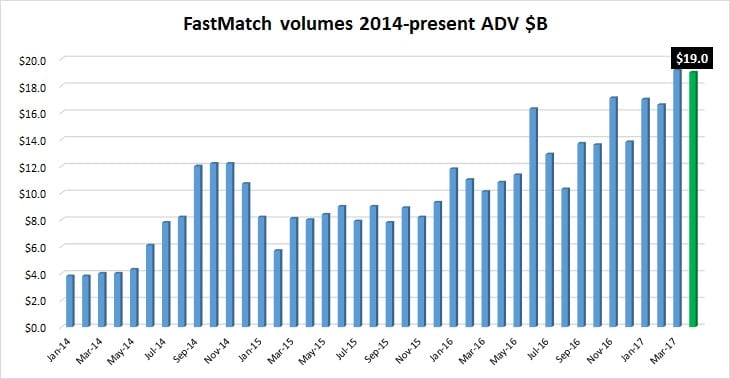 FastMatch has been on the block for more than a year. The company was jointly owned by the FXCM unit of Global Brokerage Inc (NASDAQ:GLBR), and by commercial banks Credit Suisse Group AG (ADR) (NYSE:CS) and BNY Mellon Corp (NYSE:BK). FXCM has been actively monetizing assets to pay down its high interest loan from Leucadia National Corp (NYSE:LUK) – most recently selling its DailyFX research and news site to IG Group Holdings plc (LON:IGG) for $40 million, and its US clients to the Forex.com unit of rival retail forex broker Gain Capital Holdings Inc (NYSE:GCAP).
FXCM stated that its share of the sale proceeds will be $55.6 million, with a portion held in escrow subject to certain future adjustments. FXCM will also get a share of the $10 million earnout if certain performance targets of
FastMatch are met.
Assuming that FXCM receives the sale proceeds, and that little or no taxes are payable on the sale of its stake, FXCM should be able to pay down nearly half of its remaining debt to Leucadia, which stood at about $123 million as of the end of Q1.
Closing of the deal is expected in Q3 2017, subject to regulatory and anti-trust approvals.
The transaction establishes Euronext's presence in the FX segment. Stéphane Boujnah, Chairman and CEO of the Managing Board of Euronext NV said:
The acquisition of FastMatch breaks new ground for Euronext, through expansion into the FX market which is the world's largest traded asset class. This will broaden the spectrum of products we provide to capital market users, whilst meaningfully diversifying our revenue and creating long-term value and growth for customers and shareholders. The combination of FastMatch's in-depth FX expertise, leading technology platform, diverse customer base and entrepreneurial spirit with Euronext's scale, strength and credibility, will position Euronext as a trustworthy infrastructure provider servicing a market where participants are increasingly looking for transparency, reduced capital costs, cutting-edge trading and long-term clearing solutions. The transaction is consistent with our disciplined approach to M&A and our Agility for Growth strategic plan announced on 13th May 2016, including our goal of attracting the best talent and entrepreneurs.
Dmitri Galinov, Founder and CEO of FastMatch commented:
We are very excited to become part of Euronext, an exchange group on the frontline of innovation and agility in the industry. Together, we will accelerate our vision of bringing transparency, best-in-class technology and execution to FX markets globally. Our superior technology will serve as catalyst to Euronext's strategic ambitions in growing into the FICC in Europe.
According to Euronext, the G20 post-credit crisis response has created a regulatory drive for Over-The-Counter ("OTC") and dark trading towards transparent, neutral and centrally cleared markets. New capital requirements further underpin an urgent need for greater efficiency and deep structural change of the OTC landscape. Nowhere is this more relevant than in the $5.1 trillion daily foreign exchange market. This new environment, driven by regulatory changes and the client's need for more transparency and efficiency has resulted in a clear trend of electronification of spot FX trading where 66% of trading in 2016 was electronic, growing from 55% in 2010.
FastMatch is a disruptive institutional FX ECN providing customers access to large pools of diversified spot FX liquidity at unparalleled speed. With colocation in three data centers (London, New York and Tokyo), FastMatch offers clients including retail forex brokers the fastest, most scalable and versatile technology available in the market.
FastMatch's cutting-edge proprietary technology offers its established client base, many Tier-1 banks, non-bank market makers, broker-dealers, asset managers and hedge funds, unparalleled execution capabilities (>10x lower latency versus most peers), state-of-the-art smart order routing and highly customizable liquidity pools. FastMatch's superior technology allows it to operate with a highly efficient cost structure which in turn gives it the strategic flexibility to competitively price its best-in-class product offering.
Euronext will bolster FastMatch's European presence through increased access to institutional clients across Europe. Additionally, the roll-out of real-time and historical data products will be pursued in the short-term. In the mid-term, FastMatch and Euronext will aim to achieve presence in the FX derivatives space.
Euronext said that the transaction will be immediately accretive to Euronext's earnings and mid-single digit EPS accretion is expected in the medium-term before synergies.
The full press release announcing the acquisition can be seen here.