FCA regulated online CFDs broker Plus500 Ltd (LON:PLUS) has begun its recently announced share buyback fairly slowly, with the company acquiring a total of 8,155 of its own shares via broker Liberum Capital in open market transactions since first announcing the buyback late last month.
Plus500 paid an average price of £12.9655 per share, for a grand total layout so far of £105,733 (USD $138,000).
Plus500 had announced its plans to buy back up to £10 million worth of its own stock when the company released its (partial) financials results for Q3-2018 in late October.
Plus500's share price has come down significantly, by about 40%, since topping £20 in early August (see graph below). After an absolute blowout Q1 which saw Plus500 generate $297 million in Revenue and $237 million of EBITDA – driven largely by growing client interest in cryptocurrency trading – the company saw a decline with Q2 Revenues of $168 million and Q3 Revenue of $100 million. Q3 in particular at Plus500 was hit by new rules enacted as of August 1 by European regulator ESMA, limiting leverage on FX and CFD products (30x) and crypto (2x) trading, putting a major damper on client trading volumes at Plus500 and other leading online CFD brokers.
Plus500's share price decline has seen a number of institutional investors take the opportunity to step in and buy shares of the company. During September investment giant Blackrock picked up a 7% stake in Plus500, and Luxembourg private label fund manager Axxion acquired a 5% position, as was exclusively reported by LeapRate.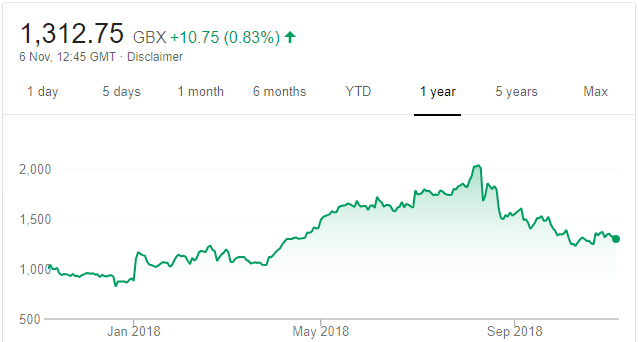 Plus500 one year share price graph. Source: Google.