The "ESMA effect" is certainly beginning to be felt by some of the leading Forex and CFD brokers.
FCA regulated online CFDs broker Plus500 Ltd (LON:PLUS) has issued a Trading Update for Q3, indicating that Revenues fell by 40% from the previous quarter to $100.1 million (and were just about a third of record Q1 revenues of $297 million). Q3-2018 included the first two months of ESMA's mandated cap on the amount of leverage which brokers can offer trading customers – 30x for FX major pairs, moving down from there to just 2x for cryptocurrency related FX pairs.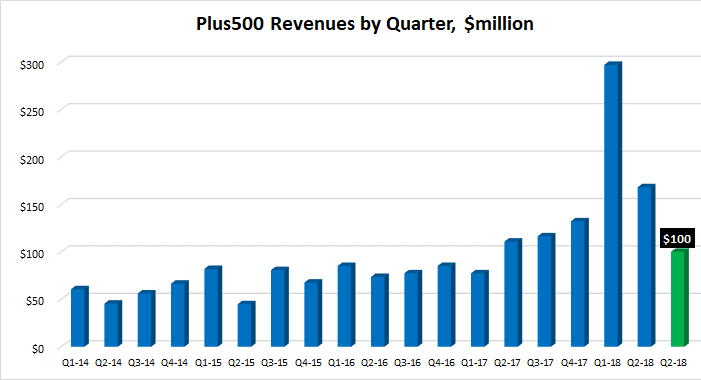 The "ESMA effect" was most noticeable when looking at Plus500's ARPU, or average revenue per customer. Q3 ARPU came in at $981, versus $1,232 in Q3 last year. (Low market volatility during Q3 didn't help matters much either). Meanwhile the company's cost of acquiring a new client rose significantly, up to $1,581, versus just $677 in the first six months of the year.
As Plus500's share price has come down significantly by about 40% since topping £20 in early August (see chart below – will be interesting to see how it reacts when trading opens up later this morning in London), the company said that it was going to initiate a $10 million share buyback program in accordance with the authority granted at the company's AGM. With effect from today, the company has appointed Liberum Capital Limited to manage an irrevocable, non-discretionary share buyback programme to repurchase on its behalf, and within certain parameters.
As far as outlook goes, Plus500 said that approximately 8% of EEA customers have now elected to become professional clients representing approximately 38% of Q3 EEA revenues. (Plus500 and other EU brokers can still offer "professional" clients higher levels of leverage). At the end of Q2 this was 5% of EEA customers and approximately 20% of revenues within the EEA. The company continues to believe that less than half of EEA revenues, or only 30% of overall revenues, will be impacted longer term by the current EEA restrictions.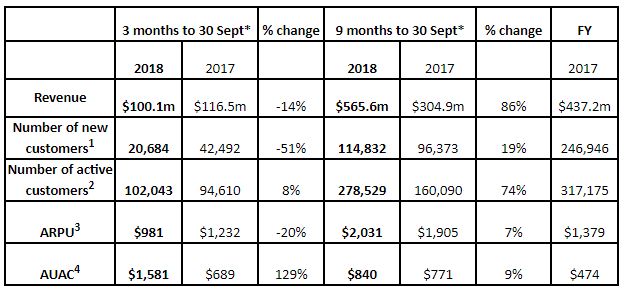 Asaf Elimelech, Chief Executive Officer of Plus500, commented:
Our results for the third quarter continued to show satisfactory levels of trading activity of our Active Customers in comparison to previous years, despite regulatory changes and low market volatility. We continue to focus on our core markets and acquiring high value customers supported by our innovative technological edge and the prospect of potential new licences outside the EEA. We now expect to be ahead of current market expectations for 2018.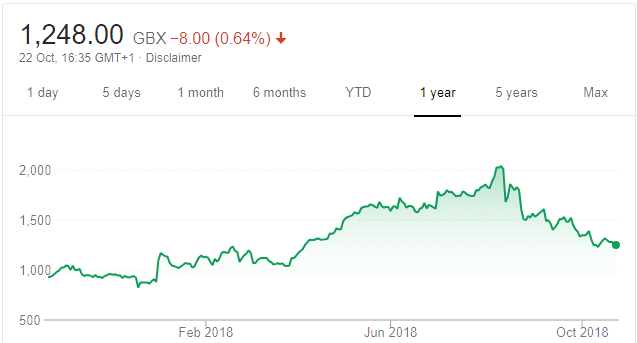 Plus500 one year share price chart. Source: Google.
The complete Plus500 Trading Update for Q3 can be seen here.