LeapRate Exclusive… LeapRate has learned via regulatory filings that Luxembourg based private label fund manager Axxion S.A. has built up a 5% ownership position in FCA regulated Retail FX and CFD broker Plus500 Ltd (LON:PLUS).
The stake, totaling 5,808,270 Plus500 shares, are worth about £82.3 million (USD $107 million) and represent 5.1% of Plus500's outstanding shares.
The move by Axxion S.A. comes after a more than 25% drop in Plus500's share price (see chart below) since the company hit all-time highs in early August at above £20 per share. The drop came as Plus500 reported second quarter results which were strong but not nearly as spectacular as a record-setting Q1. And, as new regulations hit the EU CFD brokerage business limiting the leverage which traders can use.
Axxion's purchase also coincides with two of Plus500's largest shareholder groups – the company's founders and Playtech plc – selling more than $400 million worth of Plus500 shares in secondary placements. Playtech is now fully out of the Plus500 stake it first acquired in 2015 when it attempted to acquire the company. Plus500's founders group now owns just 7.7% of the company.
Axxion provides a complete package of services for private label funds. It invests in funds in Luxembourg and Germany, and manages these centrally. Overall, Axxion is involved in about 150 funds, has 50 employees, and approximately €10 billion under management.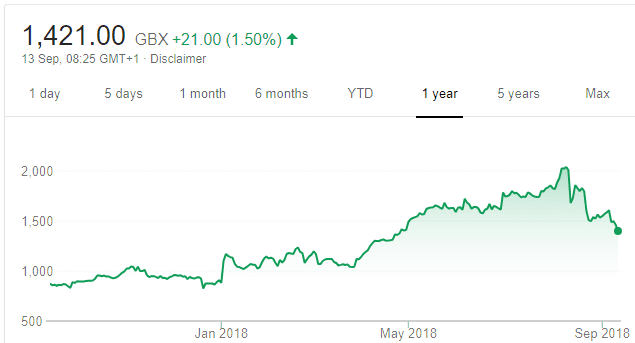 Plus500 one year share price. Source: Google.