UK online trading leader IG Group Holdings plc (LON:IGG) just released an update regarding the Group's revenues for the three months ending 28 February 2019 – the company's third quarter of fiscal year 2019 (Q3 FY19).
Revenue for Q3 fiscal 2019
This was the second quarter in which the new ESMA regulations prohibiting the sale of binary options to retail clients in the EU and UK as well as imposing restrictions on CFD products were in effect for the entire period.
net revenues from trading were recorded at £108.0 million during the quarter, which was a 12% drop from Q2 revenues.
number of active OTC clients who traded with leverage rose by 1% in Q3 to reach 84,200.
lower revenues reported in Q3 as compared to Q2 were attributed to lower revenues generated from each client, which was caused by the low volatility levels witnessed in the financial markets in Q3, leading to reduced market activity in the month of February.
Despite the recent drop, IG has proven over time that it can consistently grow the revenues generated by its OTC leveraged derivatives division over the medium to long term by increasing the quality and size of its active clients. IG reported that the demand for its services and products is still strong given the fact that it attracted 7,742 new OTC leverage clients who placed their first trade in Q3 as compared to the 7,553 new clients in Q2.
The company also saw 1,425 retail clients in the ESMA region apply to be registered as professional traders, of which it approved 14% of the accepted applications.
IG's revenues and client numbers for each reporting segment in Q3 FY19 as compared to Q2 FY12 are represented in the table below: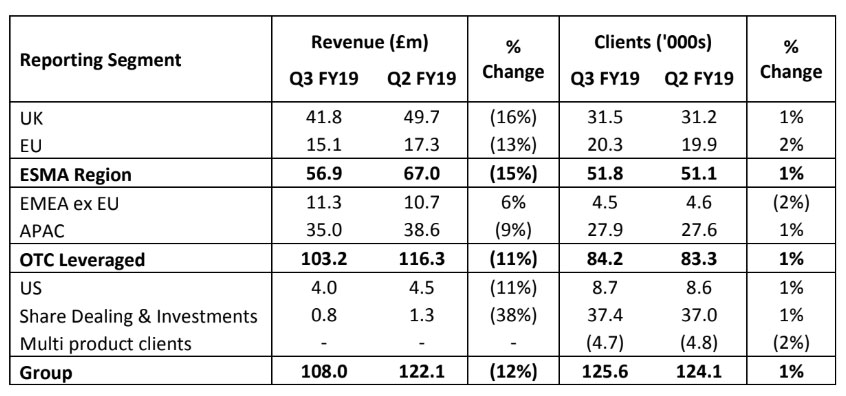 Results from the ESMA region
The Group recorded a 1% increase in the total number of active OTC leveraged clients within the ESMA region in Q3 as compared to Q2, while the number of active retail clients rose by 2% to come in at 46,600. The lower revenues recorded in the ESMA region during the quarter as compared to the previous one was due to the lower revenues generated from each client in line with market conditions. The company also saw a decline in the revenues generated from professional clients who are not covered by the new ESMA measures as their revenues dropped from 69% of the total in Q2 to 65% in Q3 due to the same reasons.
The Group's new subsidiary in the USA which is registered to operate as a Retail Foreign Exchange Dealer, IG US, and its new client facing subsidiary in Germany, IG Europe, both launched operations at the end of January.
LeapRate released an exclusive interview with Conor Shea, Head of US Marketing at IG, to be the first one to know more details on the launch.
Spectrum, the Group's MTF, is expected to launch before the end of the financial year.