After reporting record Revenues for the first half of Fiscal 2018 (the company has a May 31 year-end), UK online trading leader IG Group Holdings plc (LON:IGG) has gone one better in Q3 (quarter ended February 28, 2018), reporting best-ever Revenue of £152.9 million.
IG's previous best ever quarter was Q1-2018, when Revenues hit £135.2 million.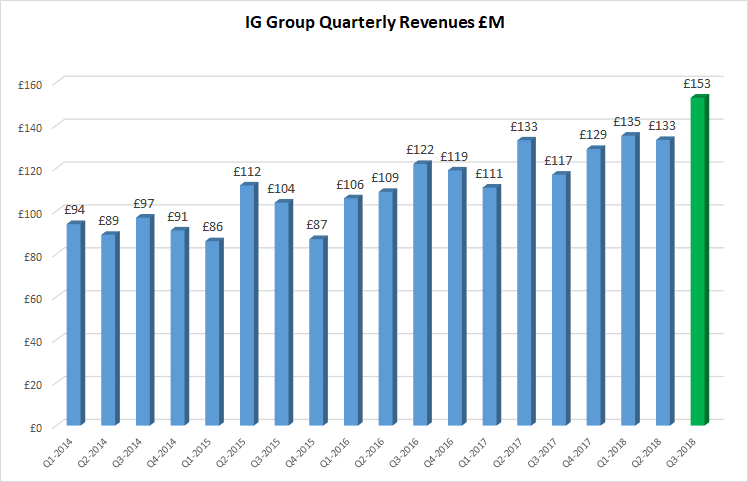 The company said that Revenue in Q3 benefited from a high level of client trading activity, and from an increase in the number of active clients.  OTC leveraged revenue per client of £1,482 in the quarter was 25% higher than in the prior year. The number of unique OTC leveraged clients active in the period of 99,500 was 4% higher than in the prior year, including 12,500 new OTC leveraged clients who traded for the first time in the period.
Driving Q3 results was trading in cryptocurrencies which accounted for 11% of revenue in the period (Q3 FY17: 1%). However, the company said that cryptocurrency trading by clients has slowed markedly since the end of January.
Year to date net trading revenue of £421.3 million is 16% higher than in the same period in the prior year. Client trading in cryptocurrencies accounted for 7% of year to date revenue (Q3 FY17 YTD: 0.5%).
Revenue and other key performance indicators by reporting segment for Q3 at IG are as follows:

IG stated that Revenue growth has been strong across all regions and products. The 16% growth in OTC leveraged revenue compared with prior year reflects higher revenue per client, driven by an increase in client trading activity, combined with higher hedging efficiency.
The business has delivered a strong performance in each of the first three quarters of the financial year. The company said that it remains difficult, however, to predict the level of revenue in the last quarter of the year, which depends on the level of trading opportunities available to our clients and on the company's hedging efficiency.
And last, the elephant in the room: ESMA.
Following its call for evidence in the early part of the year, it is expected that ESMA will soon publish measures to restrict the marketing, distribution or sale to retail clients of CFDs. IG continues to believe that any financial impact from the implementation of such measures is unlikely to be significant in FY18. However it remains difficult to predict what impact regulatory change may have on the business in subsequent financial years. The company said that it has made good progress with the actions being taken to mitigate the potential financial impact of regulatory change, and to position the business so that it will continue to deliver for all its stakeholders under a more restrictive regulatory environment.