UK online trading leader IG Group Holdings plc (LON:IGG) has released its first quarter 2019 revenue update – IG Group has a May 31 fiscal year end, so the period covered in Q1-2019 is June through August 2018. Importantly, that includes two months of a ban on binary options (which kicked in at the beginning of July) and the first month of a severe leverage cap on Forex and CFD trading which was instituted across Europe by ESMA.
And not surprisingly, the measures have hit IG's top line, with Revenues down 5% from Q1-2018 and 13% from the previous quarter (Q4-2018).
IG had previously stated that it believed that ESMA's measures would result in about a 10% hit to Revenues, and that seems to have held true although the sample size is still quite small.
IG revenue was £128.9 million in the first quarter of FY19, 5% lower than in the same period in the prior year. In addition to the ESMA measures, IG said that the heightened level of volatility in financial markets and client activity experienced in FY18 have not continued into FY19.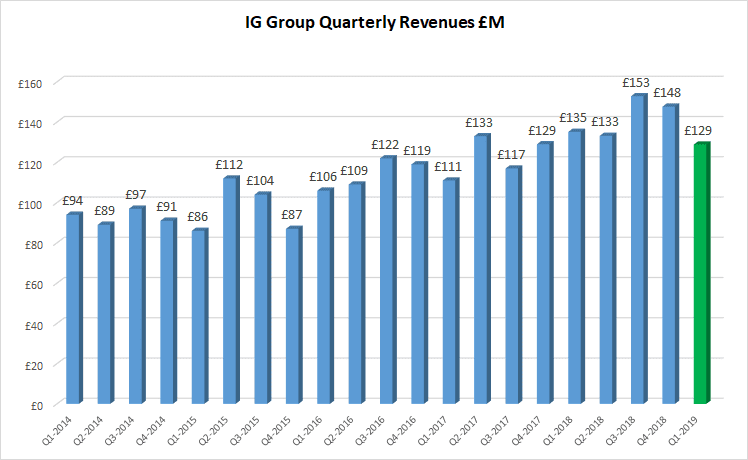 In November 2017 IG launched an online process to enable its sophisticated clients who meet the required criteria to apply to become categorised as an elected "Professional" client.  The proportion of UK and EU revenue generated by clients who at the end of the period were categorised as professional was over 50% in Q1 FY19, in line with the Company's previously stated expectation.
IG stated that the volume of trading by clients categorised as retail clients in the UK and EU was significantly lower in August than in July following the implementation of the ESMA measures. It is not possible to draw firm conclusions from a one month period as it will take time for retail clients to adapt to the new rules and change their trading behaviour.  The Group's performance in the month of August has not changed the company's previously stated view that the impact of the ESMA measures on historic revenue would have been a reduction of approximately 10%.
The company also said that it has continued to make progress with its strategic initiatives. IG's German subsidiary has received a licence in principle, subject to standard conditions, from BaFin to offer financial services to EU clients. This provides certainty that IG will continue to be able to offer its regulated financial products in all EU member states following the UK's planned exit.
IG segment Revenues in Q1-2019: