Leading off our reports of FX trading volumes for November by leading Retail and Institutional eFX platforms, Forex ECN FastMatch data shows a 1% decline in activity from October, although still fairly strong overall in a historical context
FX trading volumes at FastMatch averaged $17.8 billion daily in November, versus $18.0 billion ADV in October and $20.9 billion ADV in September. But we'd note again that September 2017 was FastMatch's second best month ever as far as trading volumes go, second only to a record $22.5 billion FastMatch reported in May 2017.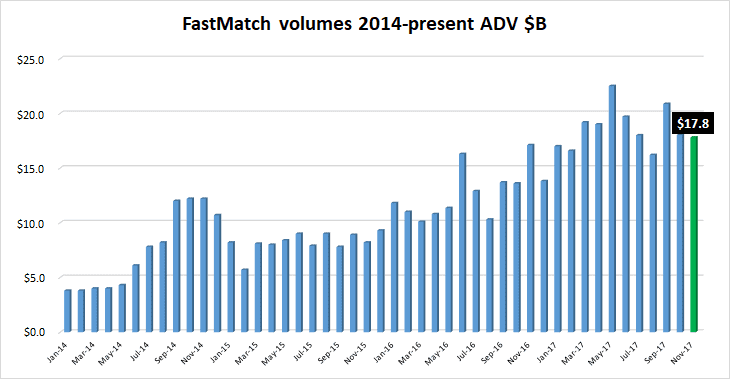 FastMatch had a fairly busy November outside the FX volumes count. The company announced the opening of a new sales office in Greenwich CT, located near some of its major customers. FastMatch also recently stated that it was opening up its FX tape data to the general public.
FastMatch's three owners, Global Brokerage Inc (NASDAQ:GLBR), Credit Suisse and BNY Mellon Corp, announced in late May that they are selling 90% of the company to Euronext NV (EPA:ENX) for $153 million. The transaction closed in mid August.