Continuing the strong business momentum which it saw in the second half of 2017, Swiss online banking and brokerage leader Swissquote Group Holding SA (SWX:SQN) has reported record results for 1H-2018, driven in part by large numbers of new account openings from a new generation of cryptocurrency traders.
Operating revenues for the six month period rose by 30% compared to the first half of 2017 to CHF 118.0 million (USD $120 million), while net profit increased by 43.9% to CHF 25.7 million – both records for Swissquote.
Client assets were up 20.6% to CHF 25.5 billion. Net new monies increased by 60% to CHF 2.4 billion. For the year as a whole, Swissquote is increasing its growth forecasts for both revenues and profit from 10% to 15%.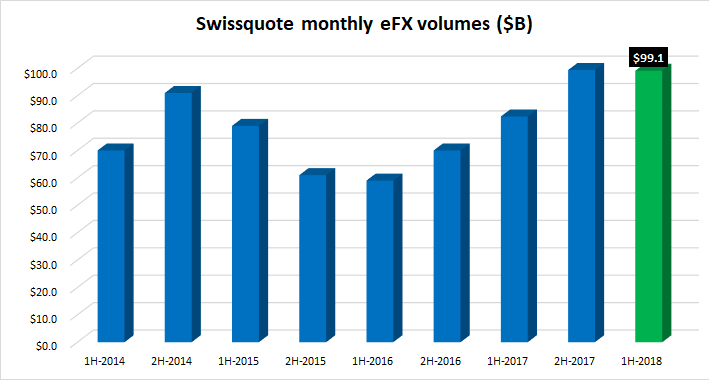 Swissquote said that all four of its business unit areas contributed to this exceptional result. Net fee and commission income improved by 42.8% to CHF 55.6 million. Half of this increase of CHF 16.7 million was attributable to the strong growth in the number of client accounts (16,278) and an increase in client trading activities (11.8 transactions per client/year compared to 10.8 for the first half of 2017). The other half (CHF 8.0 million) was achieved in the cryptocurrency business.
The company stated that Cryptocurrencies, ICOs and blockchain technology will continue to be a significant theme for Swissquote. For this reason, the company has joined forces with other leading players in the financial, technology, science, and legal spheres to form the association CMTA (Capital Markets and Technology Association). These technologies will be heavily expanded in the future.
However, following a general decline in the value of cryptocurrencies recently, Swissquote said that revenues in this area are likely to be somewhat weaker in the second half of the year.
eForex income increased by 7.5% to CHF 35.1 million, also a record figure in the business for Swissquote. The company said that this strong growth is attributable to a 20.2% rise in FX trading volume to USD $594.4 billion – or monthly volumes just above $99 billion per month (see graph above).
In June 2018 Swissquote launched a unique Multi Currency credit card. Unlike a traditional credit card, this allows the holder to make purchases in any one of 12 currencies. These purchases are then settled directly in the foreign currency in question, with no processing fees.
The company also said that its Robo-Advisory platform has been completely overhauled, and now sports a new, client-friendly design. In the near future, cryptocurrencies will be added to the investment universe of Swissquote Robo-Advisory as a new asset class, thereby underlining Swissquote's determination to further expand its pioneering position in the Robo-Advisory market.
Swissquote's full press release on its first half 2018 results can be seen here.