Swiss online banking and brokerage leader Swissquote Group Holding SA (SWX:SQN) has announced its results for the first half of 2017, indicating record figures on both the top and bottom line.
Revenues at Swissquote came in at a record CHF 90.5 million (USD $93 million) in the first six months of 2017, up 17% from first half 2016 and up 18% from second half 2016.
Net profit of CHF 17.9 million was up 61% from 1H-2016, and up 86% from 2H-2016. Again, record performance.
Driving Swissquote's results was continued growth in client assets, which topped the CHF 20 billion level for the first time.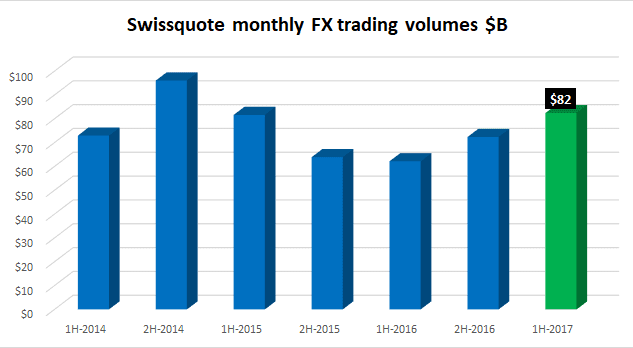 Swissquote's eFX business saw nice growth as well, with FX trading volumes averaging $82.3 billion in the January-June 2017 time frame, up 14% from the second half of 2016 – and Swissquote's strongest volumes showing since 2014. Revenue from its Forex business hit CHF 32.6 million in 1H-2017, up 17% from last year, driven by a 32% increase in new clients and a sharp 77% rise in Forex client assets.
Swissquote also offered a rosy outlook for the second half of 2017, stating that "Swissquote anticipates similar positive performance in the second half of the year".
Swissquote shares reacted to the news by trading up 13% to CHF 32.00, a 52 week high for the shares and the highest they have been since mid 2014.
Swissquote recently announced the launch of Bitcoin trading for its clients. Also during the first half of the year, Swissquote expanded its offering of the Swiss DOTS off-market trading platform. The new issuer is Vontobel, which added 10,000 new leveraged products,
Swissquote's full 1H-2017 report can be seen here (pdf).