As we had reported they would back in early January, Swiss online banking and brokerage leader Swissquote Group Holding SA (SWX:SQN) has reported record results for 2017, driven in part by large numbers of new account openings from a new generation of cryptocurrency traders.
Our analysis also shows that Swissquote's eFX business had its best period ever in the second half of 2017, with FX trading volumes topping $99 billion per month – up from $82 billion monthly in the first half of the year. Overall for 2017, eForex income increased by 26% to CHF 66.7 million.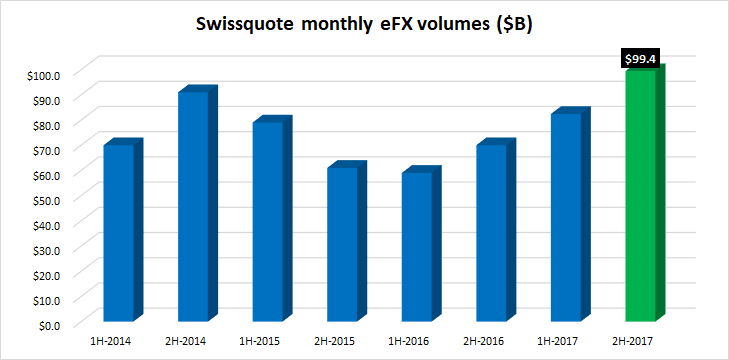 Compared with the previous year, total net Revenues at Swissquote increased by 25% to CHF 187.8 million (USD $200 million), while net profit grew by 89% to CHF 39.2 million. Client assets were up 30% percent, at CHF 24.1 billion.
For 2018, Swissquote is expecting net revenues and earnings to continue growing by approximately 10%, following what the company indicated has been a strong start to 2018.
The total number of accounts at Swissquote grew by 6,511 (+2.2%) during 2017 to 309,286. The breakdown is as follows: 236,861 trading accounts (+0.3%), 28,955 saving accounts (-11.9%), 1,898 Robo-Advisory accounts (+22.3%), and 41,572 eForex accounts (+29%).
As noted above, part of the improved operating and financial results, and account openings, was due to major success in cryptocurrency trading. From mid-2017, Swissquote became the first European online bank to offer its clients the opportunity to invest in cryptocurrencies and trade in them against the EUR or USD. The service was initially confined to Bitcoin, but since December Bitcoin Cash, Ether, Litecoin and Ripple have also been available. With five leading cryptocurrencies, Swissquote now has a larger offering of virtual currencies than any other bank.
Clients invest and trade in cryptocurrencies through their ordinary Swissquote trading account in the same way as with any other currencies, shares or funds. The sharp increase in interest in cryptocurrencies, particularly in the fourth quarter of 2017 (revenues of CHF 5.6 million in 2017), led to a flood of new accounts being opened towards the end of year. The impact of the new accounts on revenues will only be clearly noticeable in the figures for the first half of 2018.
Swissquote's full press release on its 2017 results can be seen here (pdf).