Swiss online banking and brokerage leader Swissquote Group Holding SA (SWX:SQN) has announced that it will report better-than-expected results for the second half of 2017 (when final results are released in early March).
The driver – cryptocurrency trading.
Swissquote was the first European online bank to introduce Bitcoin CFDs in mid 2017 as well as trading in other digital currencies. The result of that initiative was apparently not just a surge in crypto volumes, but also a large rise in general new account openings, bringing a new generation of clients into the fold, and a rise in 'traditional' currency pair trading as well.
Overall, following what we reported was a very strong first half 2017 for Swissquote, the company expects to more than double that result for the full year with 2017 earnings now expected to amount to CHF 186 million (USD $190 million), approximately CHF 8 million above the previous forecast. Pre-tax profit should come in at about CHF 45 million.
Swissquote shares have been on something of a run since mid December, presumably in anticipation of good results for 2017. After trading in a fairly tight band around CHF 34-36 for most of August through December, Swissquote shares have risen steadily by more than 20% over the past four weeks and sit at CHF 42.60 currently. It will be interesting to see how the shares react when trading resumes this morning.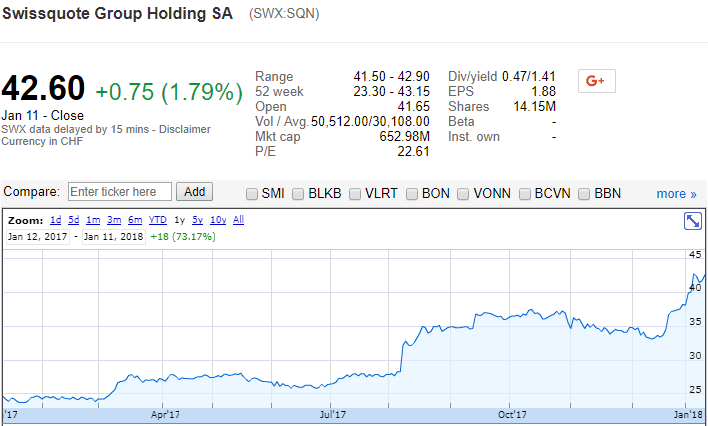 Swissquote shares, past year. Source: Google Finance.
The full text of the Swissquote announcement follows:
---
Gland/Zurich, 12 January 2018
Swissquote revises income and profit growth upwards
In its interim financial report, Swissquote stated that it expected to double its extremely strong first-half results for the full year. This estimate has now been revised upwards, with total earnings now expected to amount to CHF 186 million, approximately CHF 8 million above the previous forecast. Pre-tax profit totals around CHF 45 million.
There are two reasons for this sharp rise in earnings growth: firstly, significantly improved results in the traditional business (Trading, eForex); and secondly, cryptocurrency trading, after Swissquote became the first European online bank to launch such an offering in early July. Strong interest in cryptocurrency trading led to a flood of new account openings. Several thousand account opening applications are currently being submitted every week, each of which Swissquote, as a licensed bank, must review in accordance with banking standards. This takes time and is causing some delays in opening accounts. Swissquote is working extremely hard to clear the backlog.
The full report for the 2017 financial year will be published on 2 March 2018.