Continuing a very strong month of November we have seen at some of the world's leading FX and CFD brokers, Copenhagen based multi asset broker Saxo Bank has released figures indicating that November was indeed its best month of the year so far, with the most trading activity seen since November 2016, the month of the US Presidential election.
Overall, total multi-asset trading volumes at Saxo Bank were up 18% MoM in November, $388.3 billion versus $328.5 billion in October. That breaks a six month streak for Saxo Bank during which monthly volumes remained in a fairly stable $330-$350 billion band.
Saxo Bank reported increases in November volumes across all of its major traded products except Commodities. FX trading volumes, making up 72% of overall trading at Saxo Bank, were up 17% to $278 billion. Equities trading was very strong, up 35% MoM to $69 billion.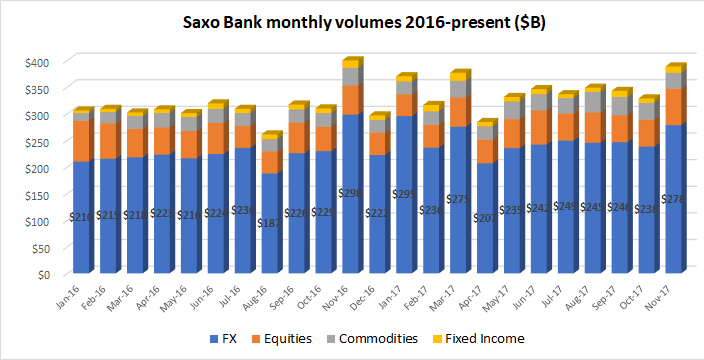 Other than where trading volumes are concerned Saxo Bank has had a very busy fall season. Saxo has made a few senior hires recently, adding longtime ETX Capital CEO Andrew Edwards as the new CEO of its UK operation and Robert Hjorth to the newly established position as Head of Strategy. Saxo Bank also launched a new quant and risk tools unit, with outside hires from Danske Markets.