It looks like Saxo Bank's new ownership group has its work cut out.
Continuing a very disturbing trend, trading volumes at Copenhagen based Retail FX broker Saxo Bank declined for the fourth consecutive month in September 2018, dropping to their lowest level since 2015.
Saxo's all-important FX trading volumes – which account for more than 70% of overall client trading – fell by 12% from August to just $172.8 billion. By comparison, Saxo Bank averaged monthly FX volumes of more than double that figure, or $372 billion, in the first three months of 2018.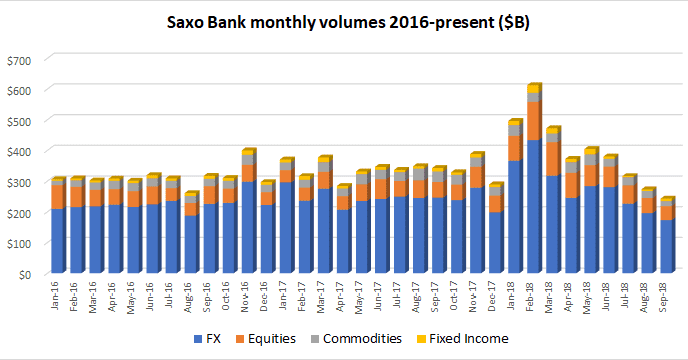 Equities trading was down 7% in September to $45.7 billion, Commodities trading down 28% to $16.4 billion, although Fixed Income trading rose by 47% to $7.8 billion.
Control of Saxo Bank was formally transferred to China's Geely Group in mid September, with Geely now holding a 52% stake in the company and Nordic financial services group Sampo taking a 19.9% interest. In the nearly 11 months between when the deal to sell to Geely and Sampo was first announced in October 2017, and when the deal closed last month, Saxo has undergone a large amount of management turnover, with a number of senior executives both coming to and departing the company.