After seeing its trading volumes hit multi year lows in September, Copenhagen based Retail FX broker Saxo Bank has reported an uptick in activity during the month of October, but volumes were still much lower than Saxo was seeing late last year and in the first few months of 2018.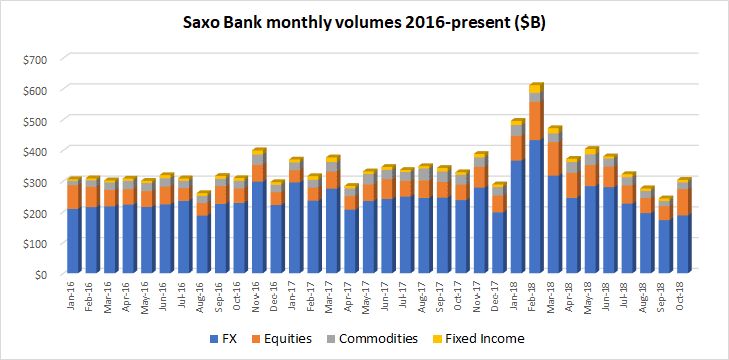 Saxo's all-important FX trading volumes came in at $187.8 billion in October, up 9% over September's anemic $172.8 billion, but the third month in a row where FX volumes – where Saxo makes most of its money – remained below $200 billion. By comparison, Saxo Bank averaged monthly FX trading volumes of $372 billion in the first three months of 2018.
Most of the rise in Saxo's October volumes came from Equities, up 87% over September to $85.4 billion, thanks largely to the high amount of volatility in global equity markets during October.
Overall, Saxo multi asset volumes totaled $304 billion in October, up 25% over the multi-year-low of $243.5 billion seen in September.
Control of Saxo Bank was formally transferred to China's Geely Group in mid September, with Geely now holding a 52% stake in the company and Nordic financial services group Sampo taking a 19.9% interest. Saxo earlier this week announced that Soren Kyhl was being promoted to Deputy CEO of Saxo Bank, with the company strongly hinting that he was in line to soon succeed longtime CEO Kim Fournais.