After seeing UK hedge fund Odey Asset Management acquire a 5% stake in the company a month ago, online gaming and financial trading company Playtech PLC (LON:PTEC) has had Dublin, Ireland based value investor
Setanta Asset Management jump in and buy a slightly smaller but still significant 3% interest in Playtech.
The Setanta stake in Playtech is worth about £47.5 million (USD $61.6 million).
Setanta is a dedicated value manager, taking an active, long term, fundamental approach to investing. The firm's philosophy is based on belief that the market is not efficient, and it looks to purchase and own assets at a price below a reasonable assessment of their worth. Setanta was established in Dublin in 1998 and now manages €9.9 billion in assets (as of June 2018). Setanta is a wholly owned subsidiary of The Canada Life Group (U.K.) Limited, which is in turn owned by Canadian insurance and financial conglomerate Great-West Lifeco.
The moves into Playtech by both Setanta and Odey come after Playtech shares have traded down nearly 50% in the past few weeks after Playtech reported weak results for the first half of 2018, due mainly to weakness in the company's Far East gaming related activities.
Playtech founder Teddy Sagi has sold down his stake in Playtech to just a 6% holding in a series of secondary share placements. His most recent such sale was made in June 2017.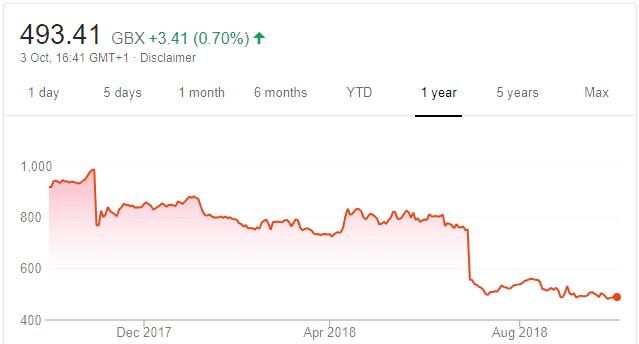 Playtech one-year share price graph. Source: Google.