LeapRate has learned via regulatory filings that Paris based asset manager Boussard & Gavaudan has sold down its equity position in online gaming and financial trading company Playtech PLC (LON:PTEC) from 9.1% to 4.8%.
Boussard & Gavaudan holds its entire Playtech stake in the form of CFDs. Its 15.28 million Playtech CFDs are worth approximately £67.7 million (USD $88.6 million).
Boussard & Gavaudan is an asset management firm with headquarters in Paris and an FCA-licensed arm in London. The firm, founded in 2002 and still run by former Goldman Sachs bankers Emmanuel Boussard and Emmanuel Gavaudan, manages about €3 billion spread across various funds.
Boussard & Gavaudan had first acquired a 4% interest in Playtech in March 2017, acquiring a 13 million share block from Playtech founder Teddy Sagi as Mr. Sagi was in the process of selling down his Playtech stake (now at about 6%) in a series of secondary share sales. Those shares were acquired at about £8.72 per share, just about double the price they sit at today (£4.43).
While Boussard & Gavaudan seems to be a seller now and taking its losses, we have recently reported that a number of other institutional investors have been building their exposure to Playtech, after the company's shares have recently declined to multi-year lows. Those investors include JP Morgan, Setanta, and Odey Asset Management.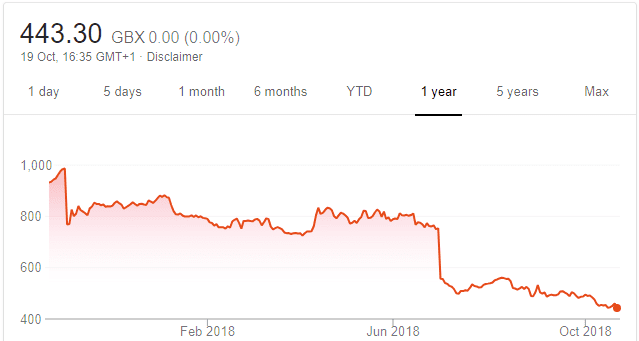 Playtech one-year share price graph. Source: Google.