London based investment manager Odey Asset Management has made filings indicating that it has acquired a 5.02% stake in online gaming and financial trading company Playtech PLC (LON:PTEC).
The interest of about 15.9 million Playtech shares (consisting of 6.7 million Playtech ordinary shares and 9.2 million CFDs on Playtech shares) is worth approximately £78.8 million (USD $101 million). Odey funds overall manage more than $5 billion in assets for clients.
The move by Odey comes after Playtech shares have traded down nearly 50% in the past few weeks after Playtech reported weak results for the first half of 2018, due mainly to weakness in the company's Far East gaming related activities.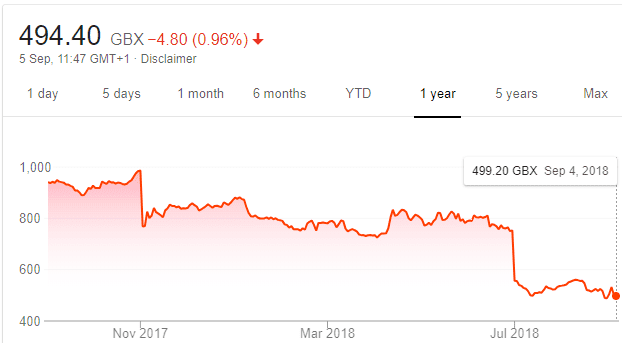 Playtech one-year share price graph. Source: Google:
What makes the investment somewhat more interesting to those in the FX world is that Odey has been a long term investor in Plus500 Ltd (LON:PLUS), which is a rival to Playtech's Markets.com retail FX brand. Odey remains today Plus500's largest outside shareholder, with a greater-than-10% stake in Plus500 worth about £185 million.
Also, Playtech had attempted to acquire Plus500 in late 2015 for £4 per share, in a move that was opposed at the time by Odey. That transaction was eventually turned down by UK regulators, and Odey went on to increase its stake in Plus500 which paid off handsomely, especially over the past year, with Plus500 shares trading at nearly quadruple that £4 figure as the company went on to report record results.
Odey is often a long-term shareholder, evidenced by their multi-year holding in Plus500.