Following the issuing of its Trading Update in early July it wasn't quite a surprise that online gaming and financial trading company Playtech PLC (LON:PTEC) reported declining profits (although increasing Revenues) for the first half of 2018.
Overall, Playtech saw Revenue of €436.5 million for the first six months of the year, which was actually up by 4% over 1H-2017's €421.6 million. Adjusted EBITDA of €145.0 million was down 15% from €170.9 million last year, while Adjusted Net Profit of €83.3 million was off 35% from €125.5 million in 1H-2017.
However the story was very different in the company's steadily growing Financials division Tradetech Group, consisting primarily of the acquired CFH Group and Alpha Capital Markets B2B businesses, and the Markets.com Retail Forex unit.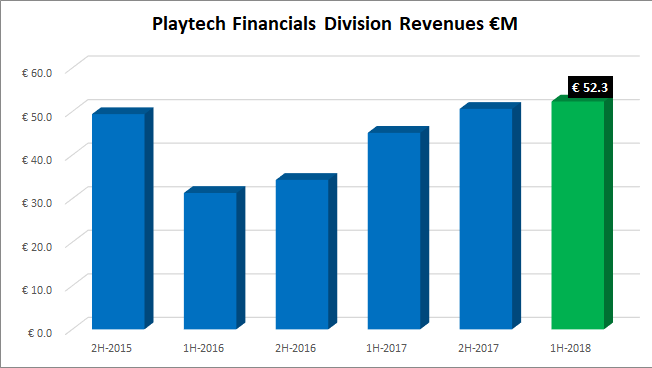 TradeTech Group enjoyed strong growth in the first half of 2018, driven by organic growth and further acceleration delivered by acquisitions. The division delivered both significant revenue and Adjusted EBITDA growth of 37% and 72% respectively on a reported basis, as well as strong growth in both line items on a proforma basis after including ACM's results in the first half of 2017, with 22% and 56% respectively.
TradeTech has also continued to deliver margin improvement due to both economies of scale and further efficiencies and cost reductions made in the business.
TradeTech also reported that, in addition to its CySEC and FCA licenses, it also now owns a local license in South Africa, regulated by the FSB, and an Australian license regulated by ASIC, establishing the foundation for expansion in these jurisdictions with its Markets.com B2C business.
The B2C business which operates the Markets.com brand enjoyed significant top line growth of 34% to $28.1 million. In addition, the business saw a significant increase in volumes of 52% to $132.3 billion ($22 billion monthly volumes) as increased customer trading was facilitated through proprietary technology and trading tools.
During the first half, as preparation for the new measures issued by ESMA, management said that it has decided to take a prudent approach to marketing spend on new customer acquisition. Management has taken the view that the incoming regulation may potentially impact the 'customer life time value' and 'accordingly cost per acquisition' metrics across the market. This resulted in slower growth in number of new customers in the period. However it was encouraging to see the business enjoy significant growth in activity from existing customers of 32%.
In the B2B business segment, the first half of 2018 also saw significant growth on a reported and proforma basis. With total revenue up 39% and 15%, and volumes up 109% and 55% on a proforma basis, This brought the business close to reaching the $1 trillion level in trading volume from B2B customers in the 6 months of 2018. These results show a healthy revenue growth trajectory following the increase in volume from customers from the three sub-segments of our B2B offering.
TradeTech management said that it believes that these results demonstrate the execution of Playtech's B2B strategy to become the provider of choice to brokers in the financial trading industry. The CFH and TradeTech Alpha acquisitions complimented the existing frontend and backend technology and enabled TradeTech to deliver an end to end solution for brokers, delivering a full suite of products from unique trading platform and CRM systems, to liquidity control, risk management, real time risk applications and more. TradeTech's strategy is to continue to establish its capabilities across the entire value chain in the financial trading sector.
Alan Jackson, Chairman of Playtech, commented:
Playtech has had an extremely busy first half of the year with important operational progress and new licensee wins in key strategic markets, the UK, Europe and Latin America. This continued progress is resulting in higher quality earnings for Playtech with Group revenue now 69% regulated. Following headwinds in Asia and a full year contribution from the landmark Snaitech acquisition, regulated revenue at current run rate is expected to be c. 80% in 2018.

This progress is marked against the disappointing market conditions in Asia. However, it should be noted the headwinds in the Asian market are not reflective of the core strength of the Playtech model as the regulated segment continues to report organic growth and encouraging momentum.

Looking to the future, the delivery of the Snaitech acquisition in the period has not only delivered geographical diversification of the Group's revenue profile but more importantly delivered a cornerstone presence in the largest, and one of the fasted growing gambling markets in Europe.
The full Playtech release on its first half 2018 results can be seen here.