Another major institutional player has taken a large bet on online gaming and financial trading company Playtech PLC (LON:PTEC), with regulatory filings showing that US banking giant JP Morgan has picked up an effective 6.41% stake in Playtech over the past few days,
JP Morgan's stake consists mainly of a series of cash-settled equity swaps, plus an interest in a convertible bond, giving it an effective equity interest in 20.3 million Playtech shares worth £91.3 million (USD $120 million),
Playtech has seen a number of institutional investors pick up 3%+ interests in the company over the past couple of months, as the company's share price has decreased to near 52-week (actually, 5-year) lows in the wake of disappointing first half results especially around the company's business in the Far East.
We had reported that Dublin, Ireland based value investor Setanta Asset Management acquired a 3% interest in Playtech earlier this month. In early September UK hedge fund Odey Asset Management acquired a 5% stake.
Playtech founder Teddy Sagi has sold down his stake in Playtech to just a 6% holding in a series of secondary share placements. His most recent such sale was made in June 2017.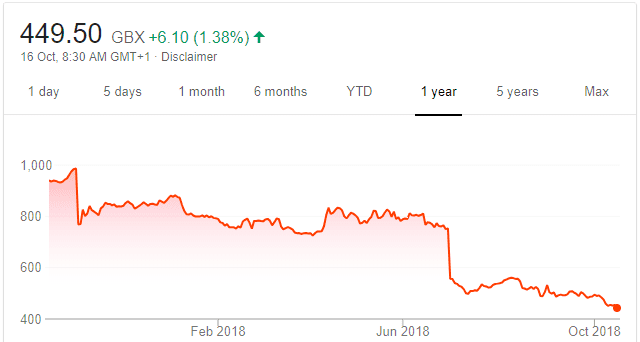 Playtech one-year share price graph. Source: Google.