Shares of UK online brokerage leader IG Group Holdings plc (LON:IGG) traded up by 16.4% Tuesday, after the company reported robust financial results for Q4-2017, the second half of Fiscal 2017, and full year 2017. IG has a May 31 fiscal year end.
IG shares, now at £6.46 per share, are at the highest level they have been at since the FCA's new-CFD-rules bombshell was released last December. (More on that below).
Although IG had already indicated in a Trading Update in early June that its 2017 Revenues were going to be up 7% over 2016 – meaning that Q4 revenues were going to be well ahead of Q3, but slightly below the record £134 million the company brought in during Q2 – the market still lapped up IG's report and was also pleased by results on the bottom line.
As shown in the chart above, IG's Q4 revenues came in at £129 million, 10.5% above Q3, which is a nice achievement for a company which is already the #1 provider in most of its key markets. However what we think got the stock price going Tuesday was the company's bottom-line results, with second half 2017 profits of £86 million nicely ahead of first half's £83 million.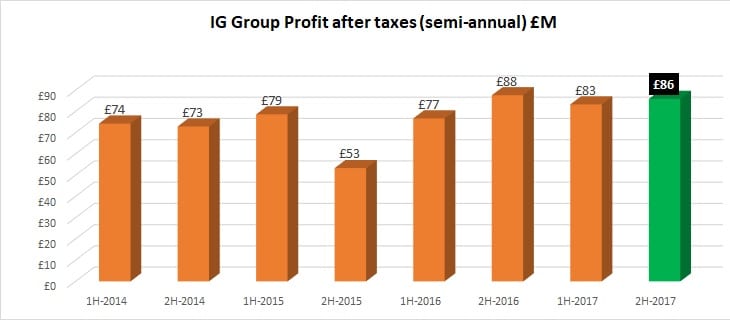 IG also gave a brief but positive Outlook as far as the beginning of Fiscal 2018 goes, stating that the 'current year has started well'.
On the international front, IG seems to be having some success in diversifying its revenue base away from reliance on its home UK market.

Overall, non-UK revenues represented 55% of the total in 2017, up from 51% last year. In particular, US revenues from IG's Nadex regulated binary options business increased by 26% to £14.1 million of revenue. That, and the fact that IG has a fairly large shares trading component to its business beyond leveraged CFD, Forex and spread betting, makes IG a lot less vulnerable to whatever new leveraged CFD rules the FCA puts in.
IG's shares are now up more than 33% from the December 2016 lows they hit, alongside shares of other publicly traded UK-focused brokers such as Plus500 Ltd (LON:PLUS) and CMC Markets Plc (LON:CMCX), after the FCA proposed new strict rules governing leveraged trading. The FCA has since delayed implementation of those rules until at earliest Q1 of 2018. However IG shares still have a long way to go to hit their 52 week and all-time high nearing £10 per share set late last summer.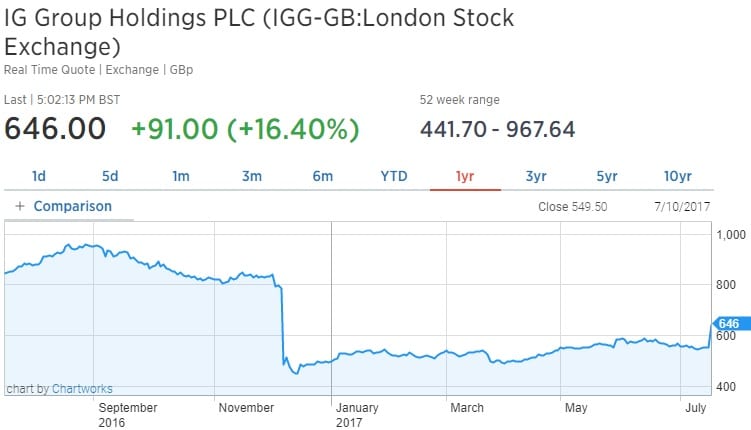 IG Group one-year share price chart. Source: CNBC.