Shares in UK online trading leader IG Group Holdings plc (LON:IGG) rose by 5% in Wednesday trading, after the company issued a fairly rosy Trading Update for its fiscal fourth quarter of 2017. IG has a May 31 fiscal year end, so the period in question is for the three month period of March-April-May 2017.
IG indicated that its Revenues for the full year 2017 were expected to be up 7% over 2016 – meaning that Q4 was an up-quarter for IG, which will likely report Revenues in the £126 million range for Q4. That's a nice increase of 8% over Q3, and IG's second best ever quarter, after Q2-2017's £134 million, which included some post-Brexit vote volatility at the end of the summer and the US election in November, which brought with it wild swings in currency markets.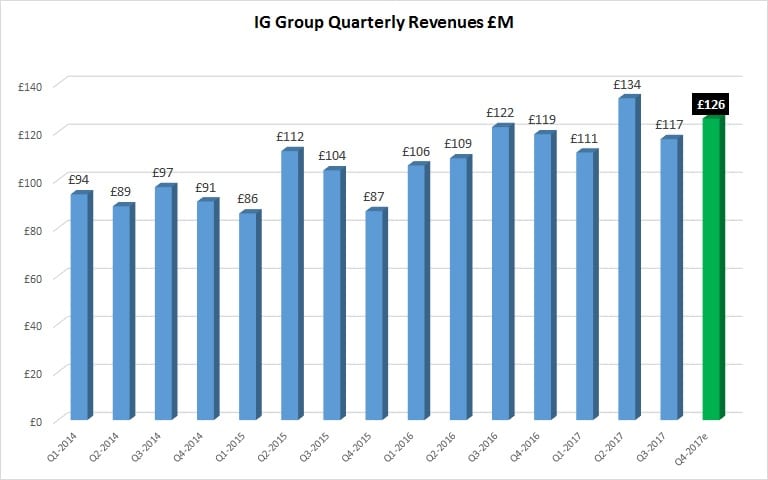 On the bottom line, IG indicated that full year profit before tax and earnings are expected to be modestly ahead of the prior year.
IG's share price is now at a six month high, but (as per the one year share price graph below) is still well below where the shares were trading late last year. Shares of IG Group, alongside those of other UK Forex and CFD market leaders such as CMC Markets Plc (LON:CMCX) and Plus500 Ltd (LON:PLUS), were hit hard and nearly cut in half after UK regulator The FCA proposed new rules governing leveraged trading, including a hard 50x leverage cap on new and existing positions. The FCA has yet to announce its final decision, after receiving a deluge of industry and trader input after the proposals were announced.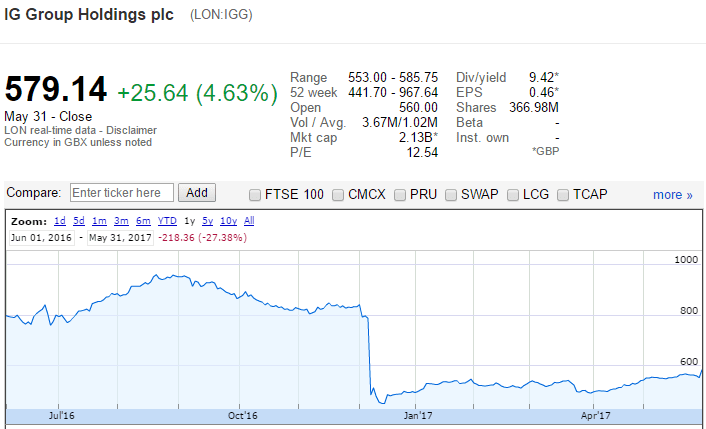 IG share price, past year. Source: Google Finance.
The full text of the release by IG read as follows:
---
31 May 2017
IG GROUP HOLDINGS PLC
Pre Close Trading Update
IG Group ("IG", "the Company"), a global leader in online trading, today issues the following Trading Update for the fourth quarter of the financial year ending 31 May 2017, ahead of entering its close period.
Despite a quiet fourth quarter in financial markets, IG's revenue in the period was higher than in the same quarter a year ago. The Company expects to report full year revenue around 7% higher than in the prior year.
Total operating expenses in the second half of the year are expected to be at around the same level as reported for the first half. This includes a rebate from the Financial Services Compensation Scheme relating to prior years.
Full year profit before tax and earnings are expected to be modestly ahead of prior year.