LeapRate Exclusive… LeapRate has learned that Geneva and Latvia based Retail FX brokerage group Dukascopy continued its weak performance from the first half of 2017 into the second half of the year.
Overall, Dukascopy posted Revenues of CHF 29.1 million (USD $29.0 million) in 2017, down 12% from CHF 33.2 million in 2016. The company posted an Operating Loss of CHF 2.4 million (USD $2.4 million) for the year, versus a profit of CHF 3.6 million in 2016.
Trading volumes were actually steady in 2017, totaling CHF 657.8 billion for the year (or, volumes of USD $54.8 billion monthly), virtually identical to 2016. We'd note that volumes seem to have fallen in the second half of the year by as much as 20%, as we had earlier reported Dukascopy's first half 2017 average monthly volumes at about $62 billion.
Client deposit balances also dropped significantly for the second year in a row, from CHF 144.5 million in 2015 to CHF 118.1 million at the end of 2016, to now CHF 105.5 million (USD $105 million) as at year-end 2017. The company said that client deposit levels were negatively impacted by a withdrawal from a White Label partner and presumably by the massive rush on Bitcoin which left less money available for Dukascopy's more classical trading instruments.
Dukascopy's results come in stark contrast to those of its main rival, and the only other licensed Swiss Bank which participates in the Retail FX business, Swissquote. Swissquote earlier reported record results and FX trading volumes for 2017, driven by crypto trading.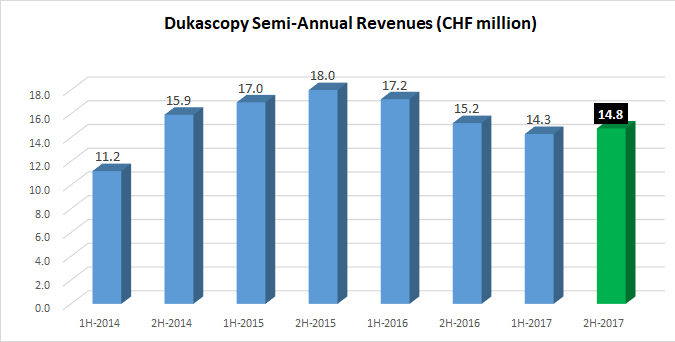 Dukascopy Bank (the Swiss entity) has 212 employees as at year-end 2017, up from 197 in 2016. The full Dukascopy Group has 350 employees.
In giving some explanation to its not-so-impressive results, Dukascopy stated that the 'race for Bitcoin observed over the last quarter of the year distracted some investors from the traditional currency pairs'. Basically, the company admitted that it was late to the cryptocurrency brokerage game, which helped drive results and new client acquisition at a number of other European based FX and CFD brokers, such as the aforementioned Swissquote. In March 2018 Dukascopy added Bitcoin and a limited number of crypto trading instruments.
Another interesting disclosure from Dukascopy is that it is (finally) giving in to client pressure and adding the MT4 platform from MetaQuotes. Dukascopy has been somewhat of an outlier in the FX world by offering clients its own in-house JForex platform. There are a number of other brokers who have developed or commissioned proprietary platforms, but most of them also offer popular third party pan-broker trading platforms, mainly MT4 or Spotware's cTrader. That way a broker can attract traders from other brokers, while allowing the trader to remain with his/her familiar trading platform. Dukascopy indicated that MT4 will be offered to the clients of the Bank, its subsidiaries and its White Label partners in the middle of 2018.
LeapRate spoke with Dukascopy co-CEO Andrey Duka and CRO Laurent Bellieres about the company's results. Here is what they had to say:
First of all we would like to attract your attention to the fact that 2017 was a new historical record in terms of trading volume. Fluctuations during the year is normal in brokerage business, and depends on many factors. Income per million traded was lower because we supported very comfortable trading conditions for our clients.

Operational losses are mostly related to the huge development done within Dukascopy Group. The development triggered extra costs that we consider necessary for the long term, especially keeping in mind that to cover these losses we used accumulated reserves. Combination of investments in development and release of reserves showed slightly positive profit in 2017. This was a deliberate choice of our Bank to concentrate on development.

In 2018, costs are expected to be lower as significant phase of development is mainly finalized. We are optimistic for expected results in 2018.
In another strategic development, Dukascopy gave an update of its plans to enter the Private Retail Banking business.  Dukascopy stated that in 2017 it made a strategical shift of emphasis from the trading business to micro-retail banking. The modern concept of retail banking based on the mobile application "Dukascopy Connect 911" has been developed and tested at "Dukascopy Payments", a subsidiary of the Bank based in the European Union. In 2017 the company said it made all the necessary integrations and, in early 2018, launched the mobile retail banking services at Dukascopy Bank.
The Bank has implemented a client on-boarding technology that allows opening all sorts of accounts 4 hours, 7 days a week. This way the Bank provides people from around the globe with a unique opportunity, in just one hour, to remotely open a bank account; to issue virtual payment VISA cards and to begin instant payments in 25 currencies. This includes crypto-currencies, and micro-investments and other services of a modern Swiss bank.
Dukascopy is controlled by husband-and-wife team Dr. Andrey Duka and Veronika Duka, who own together 99% of the company's equity. Andrey and Veronika Duka act as co-CEOs of the company.
Dukascopy's 2017 statement of income follows: