Moscow Exchange (MOEX) has announced its financial results under International Financial Reporting Standards (IFRS) for the third quarter of 2016. Increases in fee and commission income from the Money Market, Fixed Income Market and Depository & Settlement Services partially offset lower interest income and allowed the company to maintain its best-in-class EBITDA margin.
Key financial highlights for 3Q 2016
Operating income decreased by 3.5% YoY to RUB 10.78 bln
Fee and commission income increased by 4.2% YoY and reached RUB 4.75 bln
EBITDA declined by 8.1% YoY to RUB 8.40 bln with the EBITDA margin equal to 77.9%
Operating expenses grew by 19.8% YoY to RUB 2.98 bln
Net profit decreased by 9.9% YoY to RUB 6.29 bln; basic EPS decreased by 10.5% to RUB 2.80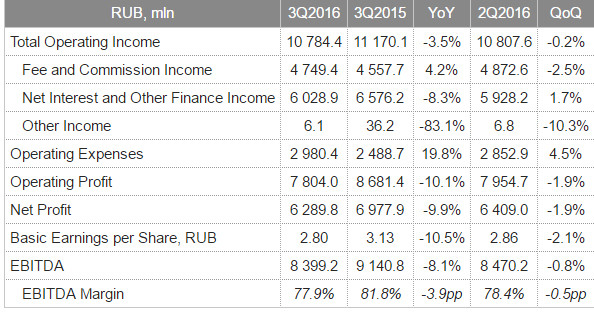 Key corporate highlights for 3Q 2016
MOEX launched new deliverable futures contracts on USD/RUB, EUR/RUB and CNY/RUB, as well as a new currency pair, CHF/RUB.
The Emerging Markets Trading Association (EMTA) and CME Group began using Moscow Exchange's USD/RUB FX fixing as the major settlement rate for rouble derivatives. This fixing complies with IOSCO principles and was approved by the Central Bank of Russia.
NSD launched the Corporate Information Center, a single source for corporate data in Russia.
MOEX EGM voted for consolidation of MOEX's 100%-owned subsidiaries CJSC MICEX Stock Exchange and MB Technologies. The restructuring will optimise the Group"s corporate structure, streamline customer relationships with Group companies and reduce costs both for customers and for the Exchange.
Events occuring after the reporting date
The DataSpace1 became the Exchange's primary data center. The M1 data center is now operating as a disaster recovery site. Migration to the reliable cutting-edge data center will ensure better quality of services and connectivity to MOEX markets.
Trading in new futures contracts on Rouble Overnight Index Average (RUONIA) rate began. New futures will allow market participants to hedge their short-term interest rate risks.
MOEX began formation of an Expert Council on Listing. The principle goal of the Council is to improve the quality of on-exchange traded assets and ensure the rights of investors.
MOEX expanded its fixed income offering by launching an overnight exchange-traded bond program.
Alexander Afanasiev, Chief Executive Officer of Moscow Exchange, said:
Moscow Exchange is continuing to execute successfully on its strategy, improving services, introducing new instruments and attracting new investors to trade on the Russian market. In an environment of sharply lower volatility and reduced investor activity across most emerging markets, Moscow Exchange posted growth in trading volumes on the bond market, money market and in commodity futures. Market participants appreciate the reliability of trading via the central counterparty and the transparency offered by on-exchange pricing, and are executing an increasing share of their trades through the Exchange. During the quarter we have seen 11 percent growth in total trading volumes and an increase in fee and commission income. As expected, reductions to interest rates have resulted in a normalization of interest income as a share of total income.

We are confident that Moscow Exchange has the required infrastructure in place as and when trading volumes and capital raisings on the Russian market accelerate.
Evgeny Fetisov, Chief Financial Officer of Moscow Exchange, added:
We continued to operate in a low volatility environment in 3Q 2016. Despite calmer markets, we managed to grow our fees and commissions by 4.2% YoY. We are pleased to see healthy growth of non-trading fees, including information sales, sale of software and technical services, as well as depositary services, which comprised 26.6% of total fee income in 3Q. Thanks to well-run treasury operations, net interest and other finance income was quite resilient (-8.3% YoY) despite lower client balances (-31.0% YoY) and declining interest rates.

We put into operation a significant amount of new hardware as we prepared the switch to Dataspace1 as our main data center, and continued work on new IT architecture. This led to higher depreciation and amortisation as well as maintenance costs. As a result, operating expenses grew by 19.8% YoY, bringing the 9M growth rate to 11.1%, slightly below the FY guidance. Our EBITDA margin remained at a solid 77.9%.
To see the complete MOEX 3Q 2016 report, click here.