Online trading industry leading broker IG Group Holdings plc (LON:IGG) has reported its results for the first half of fiscal 2017, indicating record Revenues for the company.
IG Group has a May 31 fiscal year end, so the period covered runs from June 1 to November 30, 2016. (Q2 results we refer to are for September 1 to November 30, 2016).
Overall, IG had a great 1H which included record quarterly Revenues of £133.5 million in its second fiscal quarter – fully 20% above Q1.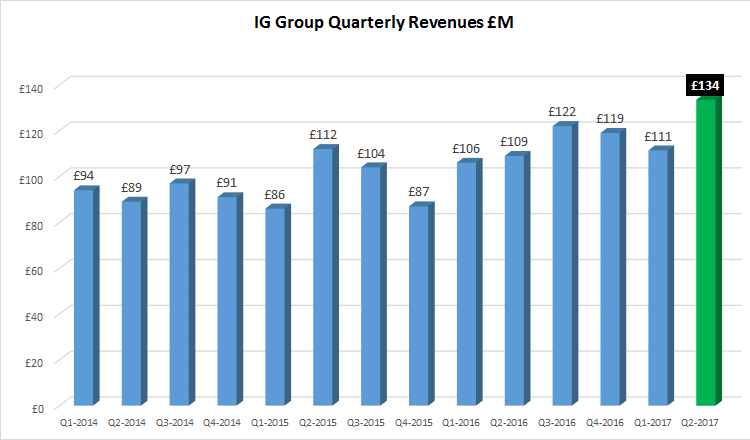 Profitability at IG hit £83.3 million in the first six months of fiscal 2017 – a good result but slightly below the record £87.6 million IG earned in the second half of fiscal 2016, as expenses (in particular marketing related) rose during 1H.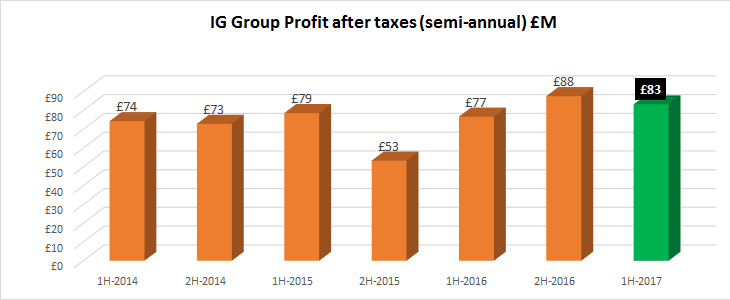 It will be interesting to see how IG Group shares trade when markets open in London later this morning (in about 45 minutes). IG shares, along with those of other leading publicly traded Forex and CFD brokers, were pummeled in mid December after the FCA revealed new proposed rules limiting leverage and banning bonuses granted to retail traders. IG shares sit now at more than 40% below their 52 week high of £9.67.
Our view, as we've stated several times, is that the FCA's new Forex and CFD brokerage rules will ultimately be good for IG and the other leading brokers. High leverage and deposit bonuses are the tools which small brokers have been using to chip away at the market share of the industry leaders. With those tools now taken away from them, it will be harder to take away market share from IG and the other FX industry leaders.
From a geographic perspective, 1H-2017 was an important milestone for IG with revenues from outside the UK outpacing UK business for the first time. UK revenues were 49.0% of the total for IG in the first half of the year, versus 51.4% last year, as international growth outpaced home-market growth for IG.

As far as all the regulatory changes the online trading world is seeing of late, IG stated firmly that it welcomes the tighter rules and believes that they will improve outcomes for retail clients.
However IG also stated that the rules must be applied consistently across the broader industry. Not to do so would create the risk of a regulatory arbitrage situation developing, whereby UK clients are effectively encouraged to choose non-compliant providers who sell into the UK from other parts of the EU, or entirely illegally from elsewhere.
As far as outlook for the second half of its fiscal year, IG stated that following a good first half, and with still a significant portion of the year to go, the company continues to perform in line with expectations. Although there is considerable regulatory change on the horizon, it is not expected that any of this will have a material impact in the current financial year. There is much to do in the second half in progressing the strategic development of the business, as IG continues to differentiate itself, including supporting the launch of its Investments service in the UK. The Company will continue to engage fully with the FCA and other regulators, in order to achieve the best possible outcomes for current and future clients of this industry, and the greatest long term value for shareholders of IG.
Other financial highlights from the first half results at IG include:
Net trading revenue up 14% at £244.9 million
Operating expenses up 23%, with significant investment in effective marketing
Profit before tax up 6.7% to £105.2 million
Diluted EPS up 7.8% at 22.55 pence
£93.9 million of own funds(2) generated from operations, up 7.7%
Interim dividend of 9.42 pence per share, in line with dividend policy
Operating and Strategic Summary:
New client numbers, defined as first trades, ahead of prior year by 59%
Purchased the assets of Daily FX, a global retail FX research and education portal, for $40 million (£32.7 million)
Continued progress in strategic evolution towards sophisticated trading and investments

Stockbroking offer rolled out to Australia and France
Licence received in January 2017 to offer a discretionary managed Investment service in the UK
Limited Risk account, with no-negative guarantee, rolled out across the world
Sprints binary product no longer offered to new clients with immediate effect

Uncertainty created by a number of regulatory developments after the end of the period

IG supports regulators' objectives to improve consumer outcomes
The Company is engaging fully with the FCA Consultation in the UK
Peter Hetherington, IG CEO, commented:
This has been another good six months for the business, with record revenue, a new high in active client numbers and ongoing success in attracting and developing the next generation of traders.  I am extremely proud of what we have achieved.  The business once again proved the resilience of its operating model and its people, as it dealt exceptionally well with the short term volatility in the financial markets caused by two significant political events.

IG is evolving and refining its offering to clients.  Strategically, for some time, we have been shifting our emphasis to active financial trading and investing, deepening and broadening the relationship with our clients.  In January, we received our licence from the FCA to offer an investments service to clients in the UK, in partnership with BlackRock, and intend to launch our smart portfolio ETF product in the UK in the near future.  Also, as part of this evolution, we now offer clients our Limited Risk account, with an absolute guarantee that they can lose no more than their deposit – around half of the accounts in the UK are being opened on this basis.  We have also taken the decision to no longer offer our Sprints binary product to new clients globally.

We welcome the intentions of the FCA and other European regulators to improve consumer outcomes across the industry, and we believe that IG's Limited Risk account will play an important role in this.  In delivering a sustainable business for over 40 years, IG has always sought, and will always seek, to operate to the highest regulatory standards.  As the largest provider in the industry, IG is engaging with the consultation processes.
IG Group's full 1H results report can be seen here.