Continuing what we believe will be a series of fairly strong November trading volume reports – driven by post US election volatility – at both retail and institutional Forex platforms, Forex ECN FastMatch is reporting that volumes in its system rose by 26% MoM from October, to average $17.1 billion ADV for the month.
November was FastMatch's best ever month for FX trading volumes, topping June 2016's $16.3 billion. During most of last year, FastMatch was doing in the neighborhood of $7-9 billion ADV, so it appears that the company has taken a major step up during 2016.
We had earlier reported that FastMatch had its second best ever day on November 9, the day after the US election, at $38.0 billion. FastMatch had its top volumes day on June 24 (post Brexit day) at $39.8 billion. Even excluding that one-day bump, FastMatch volumes would have come in at $16.1 billion ADV, up 18% from October.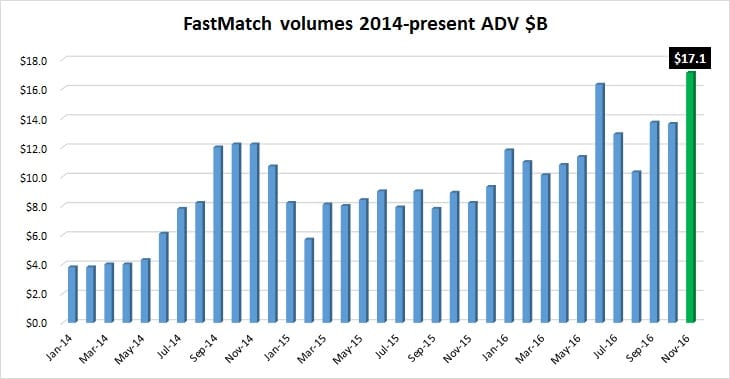 FastMatch is jointly owned by retail forex broker FXCM Inc (NASDAQ:FXCM) and commercial banks Credit Suisse Group AG (ADR) (NYSE:CS) and BNY Mellon Corp (NYSE:BK). FXCM has been active monetizing assets to pay down its high interest loan from Leucadia National Corp (NYSE:LUK) – most recently selling its DailyFX research and news site to IG Group Holdings plc (LON:IGG) for $40 million. We believe that FXCM's stake in FastMatch may be next on the block.