With the upcoming fourth and penultimate migration wave of TARGET2-Securities (T2S), Europe is taking a crucial step towards a harmonised settlement landscape.
Clearstream, the largest T2S participant, will go live in February 2017, bringing about 40% of the overall volume to the European Central Bank's settlement platform. This will lead to a doubling of current volumes.
We look forward to crossing the finish line of this mammoth project, which represents a fundamental reshaping of European capital markets. T2S brings us one step closer towards a Capital Markets Union", said Marc Robert-Nicoud, CEO of Clearstream Holding International, when presenting Clearstream's monthly figures. "With our T2S services, we will support our customers to leverage the benefits of the new platform and enable them to profit from unique economies of scale as well as improved liquidity and collateral management.
Along with Clearstream, the Central Securities Depositories (CSDs) of Austria, Hungary, Slovakia and Slovenia will migrate to the platform. The final T2S wave is scheduled for September 2017.
Here is Clearstream's volume report for the last month of 2016: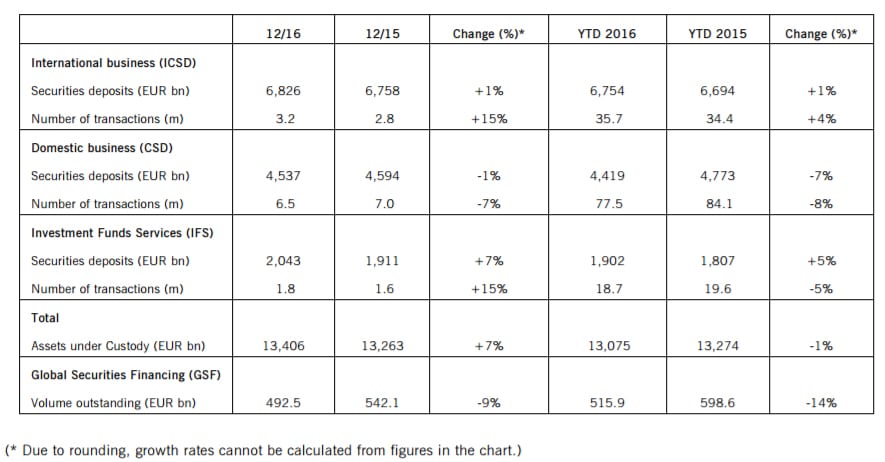 As you can see, the number of transactions in the International business (ICSD) sector is up 15% YoY.
Same number goes to Investment Funds Services (IFS).
Domestic business (CSD) is down 7% YoY, Global Securities Financing (GSF) – minus 9% YoY.