Bitcoin prices powered back above USD $1,000 on Friday, driven mainly by speculation and market uncertainty in the first few weeks of the Trump Presidency.
As of the time of writing at 08:30 GMT, Bitcoin was changing hands at about $1,017.
Will Bitcoin $1,000 hold this time?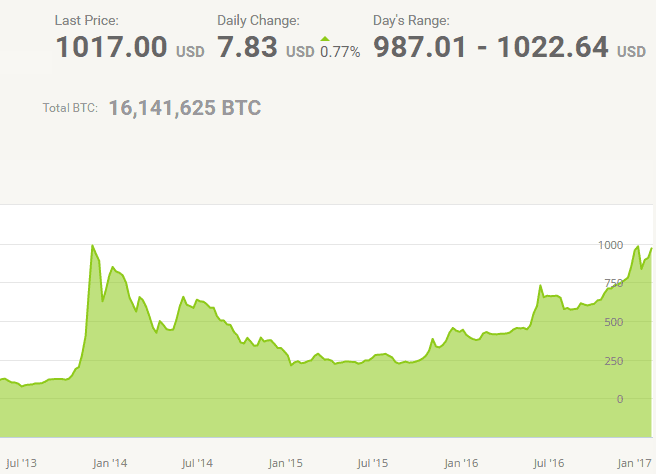 Bitcoin price 2013-2017. Source: Bitstamp.
The $1,000 level has been a somewhat poisonous technical point for the leading cryptocurrency. Bitcoin first rocketed past the $1,000 level in late 2013 in its first investment bubble, only to crash back down to earth in a year-and-a-half long slide back to the low $200's in mid to late 2015.
Bitcoin then went on a steady climb back up the ladder throughout most of 2016, driven mainly by Chinese investors looking to get money out of the country while protecting the value of their wealth against a steadily declining Renminbi.
However once Bitcoin hit the $1,000 level for the second time in early January, profit taking took hold and Bitcoin dove back quickly to the high $700s.
Now again above $1,000, will it finally hold?