How quickly attitudes can change in the Crypto-verse? There was general euphoria and cause for celebration last week, when Bitcoin broke out of its doldrums and appeared bent on blasting through $11,000. The party, however, ended as quickly as it began, as momentum waned and the world's favorite digital asset began "losing altitude". This phrase has become a common theme in most observations these days of the travails of a stagnating Bitcoin, which once it catches its breath, assaults the hill, then slides back in a lump, unsure of what tomorrow might bring. In a word, analysts are "disenchanted".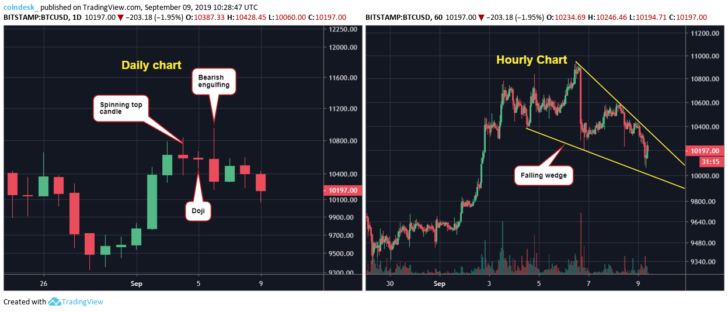 This dual chart, provided courtesy of Coindesk, illustrates a recurring theme that has become terribly boring, but predictable – Bitcoin makes a strong move up, then literally fizzles out, forming a typical descending triangle in the process, while it sinks to an accommodating support level. Once a bounce occurs, the "pilot" wakes up, and its off to the races again, but the confining boundary lines on an hourly chart, as you can see on the right side of the page, suddenly become formidable resistance, a blockade of sorts.
Many analysts in the crypto community have warned everyone that long ranging periods are the norm for Bitcoin, if previous historical records offer any explanation for what is transpiring at the moment. There has been market hype surrounding the Bakkt launch, the VanEck Bitcoin Trust for institutional investors, and Google search volumes, which could have been a manufactured ruse, but these fundamentals were offset a bit by remarks by Jay Clayton at the SEC that there was still "more work to be done", if a Bitcoin ETF was ever to see the "green light" of day from the SEC.
There is some hope that bulls are not in full retreat, since BTC did reject a pull down to $10,060, but it is precariously perched barely above the $10,000 threshold. Bitcoin advocates are holding their collective breath at the moment, but then again, have we not seen this movie scene over and over again? When is the director going to say "Cut!" or "That's a wrap!"? Our patience is wearing thin.
There is one item that might be different this time around. Forbes interviewed David Martin, chief investment officer at U.S. asset manager Blockforce Capital, to discover his take on the current situation:
So far in September, bitcoin's price has continued the consolidation and range-bound nature that was kicked off early August. As of this morning, bitcoin's volatility is now at a four-month low of 53.5%, a level not seen since May 11th.
No matter the market, periods of low volatility are almost always followed by a strong move, the so-called "calm before the storm" interpretation of events. None of the analysts that Forbes queried discounted the bullish long-term fundamentals of Bitcoin. Short-term fluctuations are like the weather – they come, and they go. Joe DiPasquale, CEO of cryptocurrency fund of hedge funds BitBull Capital, is not bothered by the current situation, which he thinks, "Bodes well for future valuations".