And once again, Bitcoin rises from the ashes, astonishing its critics and advocates alike. When every technical measure on nearly every chart was pointing down, Bitcoin responded appropriately by reversing course and heading upward with new vigor. We may soon have to refer to Bitcoin as the "Comeback Kid", if this scenario keeps repeating itself. Hardly a week has passed since BTC was pressing down on $9,300, but now, here we are again, glowing with compliments, as it challenges $10,800.
The past few days have been interesting, to say the least, as depicted on this daily chart of Bitcoin price behavior, annotations provided courtesy of Coindesk: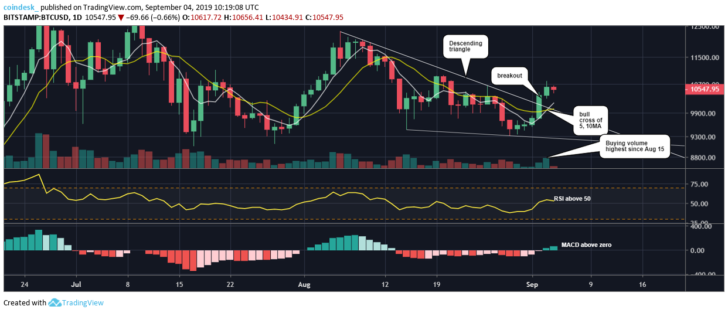 One has to go back to the beginning of August to see a 5-day positive run of green candlesticks for the world's favorite digital asset. The drop to $9,300 had ignited a wave of negativity, more than likely because no one had or has been able to explain why the sell off took place. Seasonality or a reversal of temporary "safe haven" capital inflows were cited, but the sudden rush back to the mid-$10,000s was welcomed by all. Nearly every analyst had been consumed with the penetration or lack thereof of some moving average, but the break through a "Descending Triangle" trumped those concerns.
As for reasons for the sudden northerly shift, analysts are pointing to the decision by VanEck Securities to go ahead with a limited version of its plan for a Bitcoin ETF, one that could only be sold to "Sophisticated Investors and Accredited Investors" under Rule 501 of Regulation D. These folks must have a high net worth, backed by years of experience in the financial markets, i.e., institutional investors, but are they interested?
Bloomberg's Intelligence analyst, Mike McGlone, noted in an accompanying article:
All the signs are there that institutions are interested, and this, to me, is part of that trend. It looks like it could continue to go up and it's got some good reasons.
He also spoke to Argentina's problems with its peso and its need to institute currency controls, as one more reason for Bitcoin to push ahead firmly.
Bloomberg also quizzed Ed Moya, chief market strategist at Oanda Corp., for his thoughts as to whether this rally was sustainable:
Security vulnerabilities and stricter regulatory hurdles are likely to keep this rally short-lived. We could see this rebound be temporary.
Bitcoin is presently hovering around $10,667. It did push past its 200-day moving average, a good sign, and it rests beneath its 50-day MA. As always, it needs to maintain its level. If it falls below $10,300, then it brings back the lower territories. If it can push through $11,000 and hold, then we could be off to the races again. For the time being, it has been nice to see a few bulls come back to life to stage a 5-day rally. It will be even more interesting if, after a bit of consolidation, it rallies again.