This article was submitted by Michael Stark, market analyst at Exness.
---
Negativity in some markets so far today as European countries, notably Germany, have tightened their lockdowns has been tempered by ongoing rollout of vaccines against covid-19. The American FDA's authorisation of Pfizer's vaccines has also been a positive. This preview of weekly forex data looks at XAUUSD, USDMXN and EURNOK.
Central banks were mostly inactive last week with the ECB basically continuing with 'wait and see' despite the unusually high rate of euro-dollar. This week's main event in monetary policy is the meeting of the Federal Open Market Committee on Wednesday night GMT. As before no change in rates is likely but comments on the dollar's weakness and the possibility of continuing unlimited QE will be in view for traders. Other central banks meeting this week include the Bank of Thailand, Banco de México, Magyar Nemzeti Bank, the Swiss National Bank and Norges Bank.
The key regular data this week are tomorrow's employment releases from the UK, foremost among them claimant count change. Coming in the context of the extension of Brexit talks until New Year's Eve, the outlook for the pound from data remains important. Traders are also looking ahead to balance of trade from various countries, notably Japan and Canada, plus inflation from Japan and the UK.
For pairs with the pound, the pressure seems to be off somewhat this week since few now expect a significant breakthrough in trade talks with the EU before Christmas. Nevertheless, cable, EURGBP and GBPJPY are likely to be extremely volatile tomorrow morning from 7.00 GMT at the crucial releases.
Gold-dollar, four-hour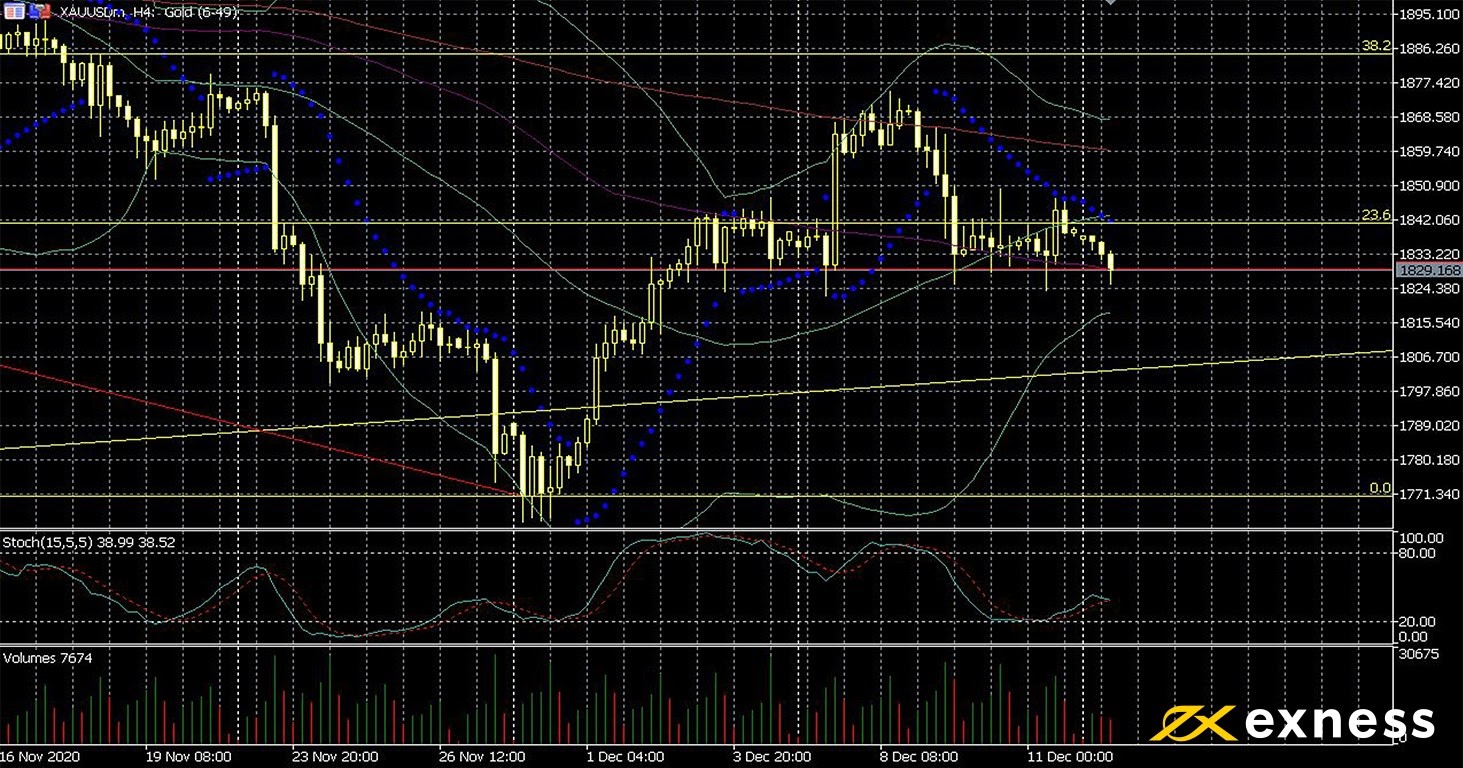 Gold has continued to test weekly lows so far today as the environment of positive sentiment in stock markets generates headwinds. Rollout of vaccines against covid continues to spur oil and many indices upward, with participants in gold markets discounting for now record low rates and extensive QE. So far, December has certainly been quieter for the yellow metal than many traders had expected.