This article was submitted by Michael Stark, market analyst at Exness.
---
Positivity in many financial markets continued today as Chinese exports reached a record monthly high last month. Chinese annual exports as released early this morning jumped over 21% compared to the same month last year with a value of $268 billion, helped by a stronger yuan renminbi. This is a positive signal for recovery in demand around the world. Today's preview of weekly forex data looks at AUDJPY, GBPCAD and EURZAR.
This week's main events in monetary policy are the meetings of the Bank of Canada and the European Central Bank. No change in rates is expected but what each says about outlooks for growth is likely to be key for the Canadian dollar and the euro respectively. Thursday's meeting of the ECB is especially important given the euro's current strength: the very high rate of euro-dollar, still above $1.21 today, might worry policymakers because of its impact on the cost of European and particularly German exports.
Some of the most important regular data this week include balance of trade from Germany and the UK plus inflation in the USA. Increasing inflation in major economies could drive further demand for commodities, while an increase in Germany's trade surplus might help the euro to climb further ahead of the ECB's meeting. Regionally important releases focus on tomorrow morning's GDP data from South Africa.
There has still been no final agreement on a trade deal between the UK and the EU. With the end of the transition period approaching rapidly, a sudden announcement of either a breakthrough or collapse of the talks should be considered possible over the next few days.
Australian dollar-yen, four-hour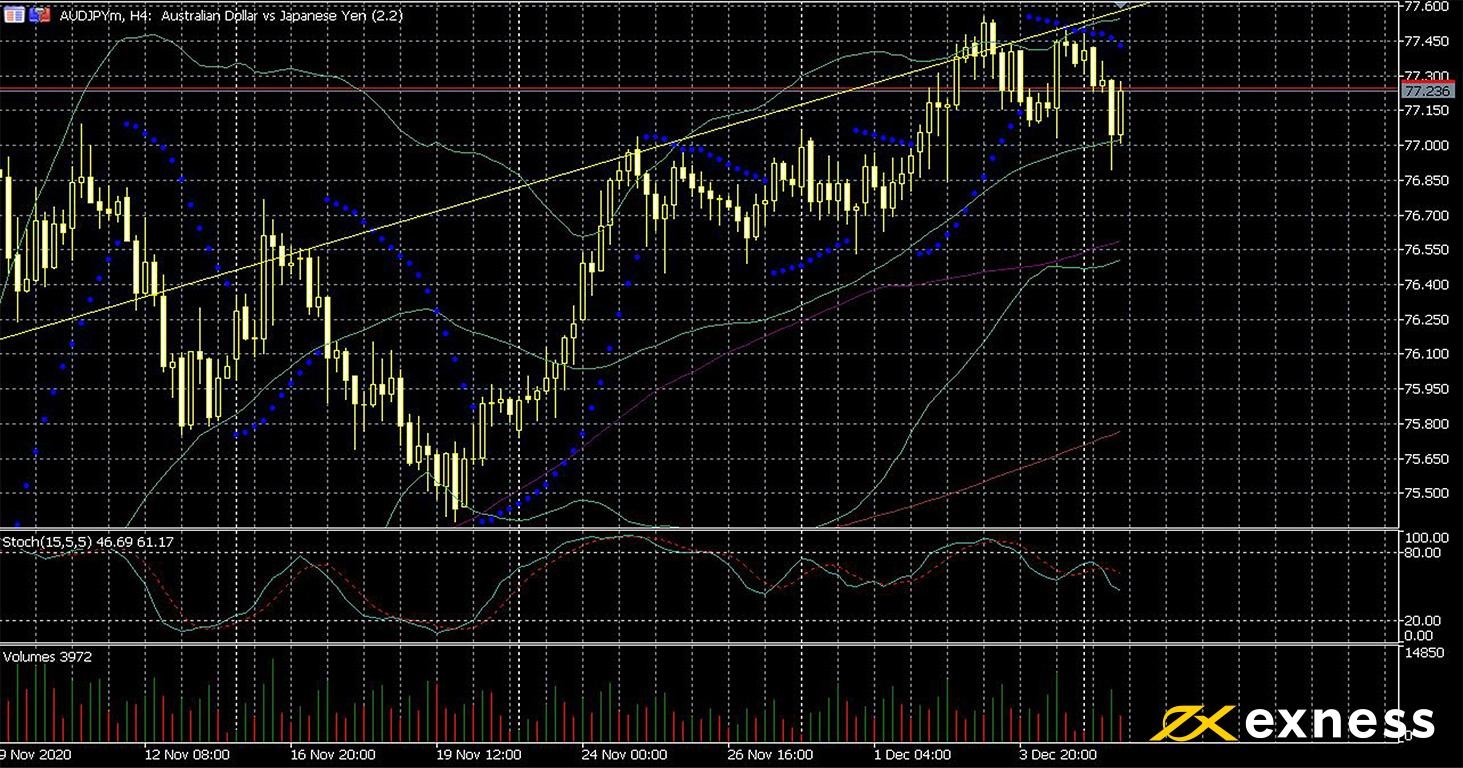 Higher demand from China for Australian raw materials and the general return to 'risk on' has supported the Aussie dollar since last week, leading to gains against a number of other currencies. Employment and other data remain weak in Australia, but it's the same story in more-or-less every other advanced economy. Participants here seem to be discounting recent escalations in the Chinese-Australian trade dispute, while the yen as a traditional haven is down amid generally positive sentiment.