Following a strong November which saw its most activity of the year, Copenhagen based multi asset broker Saxo Bank has reported that it ended 2017 with a somewhat slow month of December.
December volumes totaled $289 billion at Saxo Bank, down 26% from November's $388 billion. FX volumes comprised 68% of the total in December at $197.8 billion – the first time FX pair trading dropped below $200 billion at Saxo Bank since August 2016.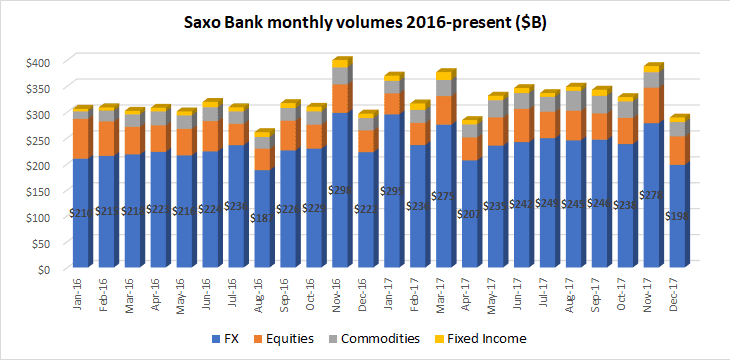 December volumes, of course, are not usually a good gauge of general activity at Retail FX brokers, with the last two weeks of the month typically slow leading through the Christmas and New Years holidays.
Nevertheless, Saxo Bank reported decreases in December volumes across all of its major traded products. FX trading volumes were down 29%, Equities trading was off 20% to $55 billion, Commodities down 8% to $28 billion, and Fixed Income down 25% to $9 billion.
Looking back at the year, Saxo Bank had a very eventful 2017. The company made a few senior management hires, adding longtime ETX Capital CEO Andrew Edwards as the new CEO of its UK operation and Robert Hjorth to the newly established position as Head of Strategy. Saxo Bank also launched a new quant and risk tools unit, with outside hires from Danske Markets. The biggest move of the year saw China's Geely Group and Finland's Sampo take control of Saxo Bank, buying out longtime investors TPG Capital and SinarMas.