CFD broker Plus500 Ltd (LON:PLUS) just announced preliminary unaudited results for the year ended 31 December 2016, which include record quarterly Revenues of $91.3 million in the fourth quarter.
For the full year 2016, Plus500 brought in $327.9 million in Revenues and earned Net Profit of $117.2 million, also both best-ever results for the CFD broker.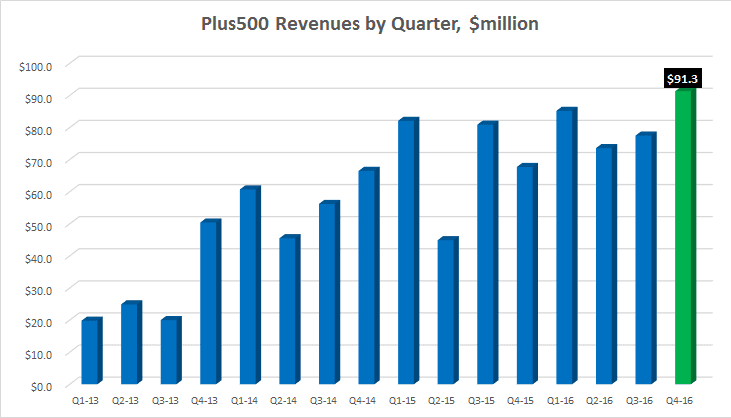 Some financial highlights for 2016 at Plus500:

Some of the highlights include:
Record year with strong revenue growth due to increase in New Customers and Active Customers
Net profit ahead of expectations:
– EBITDA in line with market expectations following a strong recovery in margins in H2
– Q4 EBITDA margin of 64% reflects the benefit of strong customer acquisition earlier in the year and more targeted advertising expenditure in Q4, yielding stable FY margins
Another year of significant dividend payments including a special dividend:
– Total dividend of $101.7 million, consists of interim dividend of $26.7 million, final dividend of $43.6 million and a special dividend of $31.4 million, representing a total pay-out of 87% of net profit for the year
Operating highlights:
Another record year of strong customer growth in excess of expectations and the industry average, reflecting effective marketing and robust business model:

Active Customers increased 14% to 155,956 (FY 2015: 136,540)
New Customers increased 23% to 104,432 (FY 2015: 84,858)

Continue to build international presence and diversify revenues through new licences in New Zealand and Israel
Maintained leadership positions:
Leadership in technology and product innovation:
a true omni-channel trading experience allowing access to information and trading across PC, web, tablet, mobile or wearable platforms in a device-agnostic manner
a majority of revenues and signups come from mobile devices reflecting speed of innovation compared to competitors (over 70% of 2016 revenues and signups originated from mobile devices)
Current trading and outlook:
Entering 2017 there has been a continued increase in New Customers
Continue to achieve good results from online marketing initiatives and sponsorships
Expect to broaden footprint and continue to diversify revenues including adding further new licences
Still assessing likely impact of regulatory changes but highly flexible business model expected to partially mitigate any impact
Asaf Elimelech, Chief Executive of Plus500, commented:
We are pleased to announce record annual results. Our continued focus on serving our customers' trading needs through product innovation and technology leadership, combined with our marketing activity, has led to strong new customer sign ups, reducing churn in H2 2016 and increased customer activity.

We were delighted to announce recently the extension of our existing partnership with Atlético Madrid in football and our new sponsorship agreement with the Plus500 Brumbies, the Australian Super Rugby team; together these sponsorships extend our strategy of increasing our brand recognition and expanding our customer base globally.

As a result, we enter 2017 confident we can continue to develop our business and expand into new markets whilst successfully incorporating regulatory changes with the minimum of disruption. Our strong balance sheet, cash generative business model, geographic diversification and competitive market position are expected to enable us to provide good shareholder returns despite continuing short term regulatory uncertainty.
For the complete report, click here.