Trade with this broker:
LeapRate Exclusive… LeapRate has learned via regulatory filings that leading Australian retail forex brokerage group Pepperstone has continued its impressive growth trajectory, growing the business by more than 50% in Fiscal 2018. Pepperstone has a June 30 fiscal year end, so the results described are for the year ended June 30, 2018.
Fiscal 2018 completed an amazing three-year run for Pepperstone, which has seen that company more than quadruple its revenue base from AUD $60 million in 2015 to $256.3 million (USD $184.2 million) in 2018. Revenues in 2018 were up by more than 54% from 2017's AUD $166.3 million.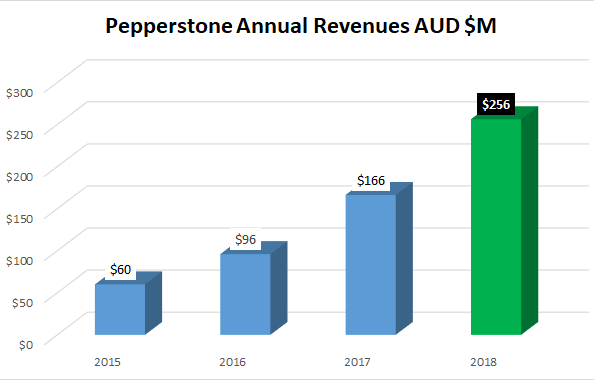 On the bottom line, Pepperstone earned AUD $102.0 million (USD $73.3 million) in after-tax net income, up 43% from 2017.
Pepperstone relies very heavily on introducing brokers for its growing activity, with the company paying out AUD $57.3 million in introducing broker rebates in 2018, up from AUD $36.2 million in 2017. Introducing broker rebates are (by far) Pepperstone's largest expense line item. On a direct basis the company spent just AUD $4.8 million in marketing & advertising in 2018, although that was up from AUD $2.2 million the previous year.
Pepperstone ended Fiscal 2018 with net client funds of AUD $207 million, up 35% from $153 million in 2017.
The company's stellar financial results have led to Pepperstone co-founder Owen Kerr placing as the seventh richest Under-40 person in Australia, in the latest annual AFR Young Rich List which was just released last week. The AFR places Owen Kerr's net worth at AUD $460 million, mainly due to his stake in Pepperstone. (We believe that the latest AFR survey was made without yet seeing the company's 2018 results described here, so Mr. Kerr might be moving even farther up the list next year).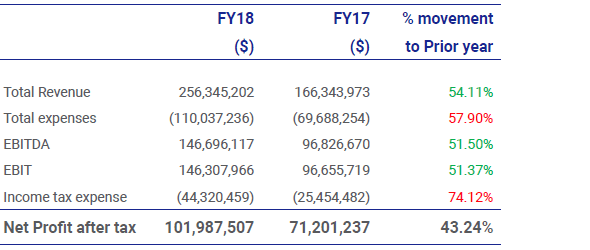 Pepperstone has had a very eventful 2017 and 2018, with the company opening up a presence in the UK, and bringing on board IG Group executive Tamas Szabo as the company's new CEO last October, as was exclusively reported at the time by LeapRate. This past September, after the end of Pepperstone's fiscal 2018 year, the company's largest outside shareholder – Aussie private equity shop CHAMP – announced that it was exiting its investment in the company, selling its stake to Pepperstone's founders, its senior management team, and CHAMP executive Fiona Lock in a management buyout.