After seeing fairly strong trading volumes during the (normally slow) summer months of July and August, retail forex broker FXCM has had a fairly slow fall season, reporting a 2% MoM decline in volumes during October after a 12% drop in September.
FXCM volumes were $192 billion in October, down 2% from September's $196 billion.
Average customer trading volume per day of $8.7 billion in October was 6% lower than during September.
FXCM averaged 304,032 client trades per day in October 2017, 9% lower than September's 334,086. Active accounts of 121,319 as of October 31, 2017 were a slight decrease from 122,806 accounts in September.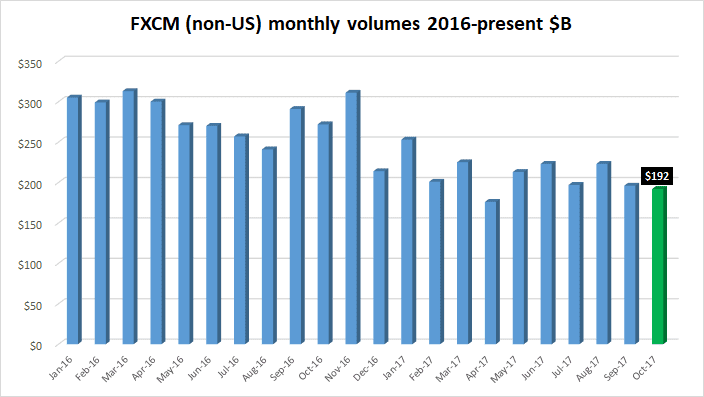 While FXCM itself seems to be chugging along just fine, Global Brokerage Inc (NASDAQ:GLBR) – which owns 50.1% of FXCM – continues to operate under the cloud of being delisted from Nasdaq, with the value of its publicly traded shares remaining well below the $15 million required threshold deadline which passed last week, October 31. If delisting from Nasdaq actually happens then that could trigger a technical default in Global Brokerage's convertible notes which, in turn, could trigger a technical default in FXCM's own debt to Leucadia – despite recent pronouncements from FXCM that it is somehow immune to the problems of its parent company, and FXCM agreeing to terminate its Management Agreement with Global Brokerage.