After seeing fairly strong trading volumes during the summer months of July and August, retail forex broker FXCM, the operating unit of Global Brokerage Inc (NASDAQ:GLBR), has reported a 12% MoM decline in FX trading volumes during the month of September.
FXCM volumes were $196 billion in September, down 12% from August but down just 4% on an average daily volume basis due to the fewer trading days in September, at $9.3 billion ADV.
FXCM averaged 334,086 client trades per day in September 2017, 2% lower than August's 339,512. Active accounts of 122,806 as of September 30, 2017 were a slight decrease from 123,411 accounts in August.
Overall for Q3, customer trading volume at FXCM was $616 billion, 1% higher than Q2 but 22% lower than the third quarter of 2016.
During September, the company charged a dormancy fee to clients resulting in a number of accounts no longer qualifying as tradeable.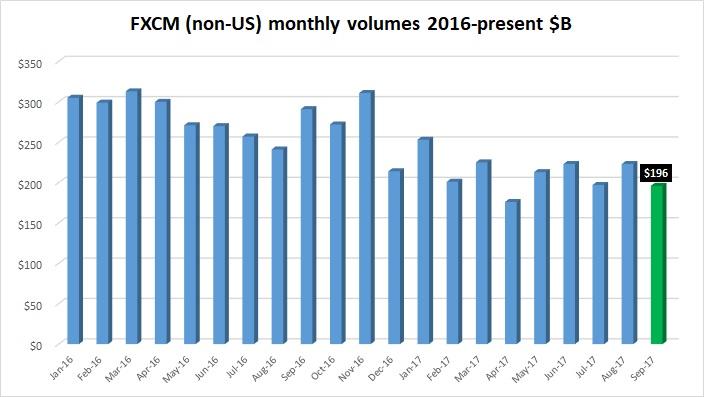 FXCM's parent company Global Brokerage Inc continues to operate under the cloud of being delisted from Nasdaq by the end of October, with the value of its publicly traded shares remaining well below the $15 million required threshold. If that happens then that could trigger a technical default in Global Brokerage's convertible notes which, in turn, could trigger a technical default in FXCM's own debt to Leucadia – despite recent pronouncements from FXCM that it is somehow immune to the problems of its parent company, and FXCM agreeing to terminate its Management Agreement with Global Brokerage.