FX brokerage group GAIN Capital Holdings Inc (NYSE:GCAP) has reported its financial results for Q3-2018, indicating a healthy rise in Revenues and profitability during the third quarter of 2018, despite a dropoff in trading volumes and the sale of the company's GTX institutional division.
Overall for Q3, Revenues at GAIN Capital came in at $95.5 million, 13% above Q2's $84.2 million. The company's Q3 net profit of $10.0 million compares to a net profit of $6.5 million in Q2.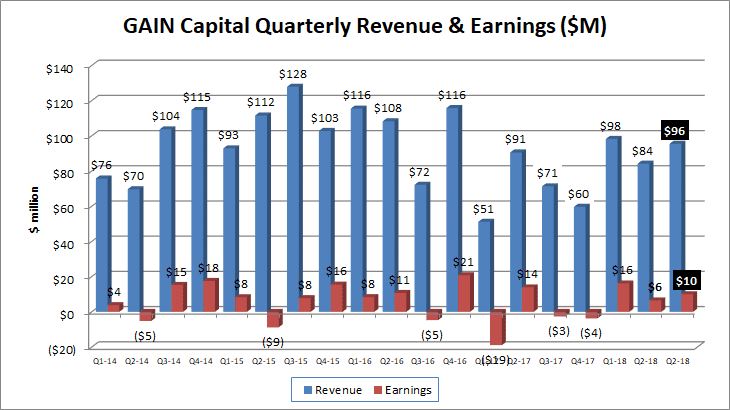 As noted above the healthy financial results at GAIN, parent company of the retail forex brands FOREX.com and UK-focused City Index, came despite our reports that over the summer months that the company's trading volumes had fallen to multi-year lows. After posting retail trading volumes of well above $200 billion in each of the first six months of 2018, FOREX.com volumes bottomed out at $149.6 billion in September 2018.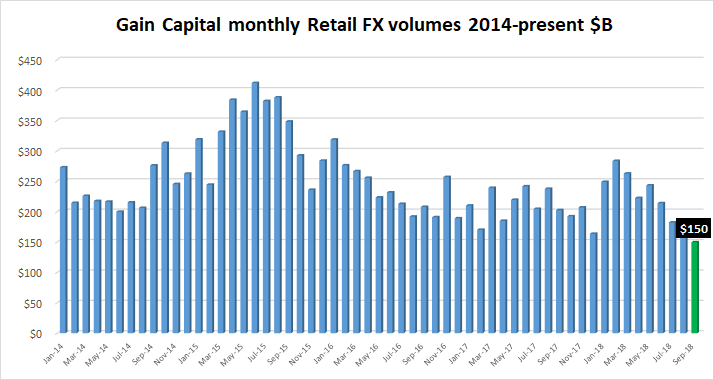 GAIN Capital recently announced a planned $50 million share buyback at a 5-15% premium to the company's share price (from before the announcement of the plan). The buyback will put to use some of the cash GAIN brought in from the sale earlier this year of the company's GTX institutional FX unit to Deutsche Boerse's 360T.
Glenn Stevens, Chief Executive Officer of GAIN Capital commented:
While overall low market volatility continued to weigh on retail trading volumes during the quarter, our diverse product offering enabled strong revenue growth. Volatility in emerging markets, along with trade tensions, prompted high trading activity in emerging market currencies, as well as certain metals and index products, which helped to generate overall revenue capture of $164 per million for the quarter. In addition, our continued focus on organic, direct account growth and marketing initiatives helped deliver strong operating results in Q3, with new direct accounts up 28% year-over-year. As reiterated through our recently announced $50 million tender offer, we are firmly committed to executing a balanced capital allocation strategy to enhance shareholder value.
GAIN Capital's full Q3 results press release can be seen here.