London-based online trading firm CMC Markets Plc (LON:CMCX) has issued a Trading Update for its Fiscal 2017 second half, which covers the six month period of October 1, 2016 – March 31, 2017. CMC has a March 31 fiscal year end.
While CMC did not disclose any specific revenue, volume or earnings figures, it did state that revenue has been modestly higher during the second half of the financial year. However as guided when CMC Markets provided its H1 2017 results, Full Year 2017 net operating income will be below FY 2016 net operating income, and costs remain broadly in line with H1 2017.
While not a deterioration in results, with H2-2017 in line to be similar to H1, we'd note that both Revenues and Profits at CMC Markets fell in the first half of the year, as compared to the results of the previous two years, as indicated in the following graph.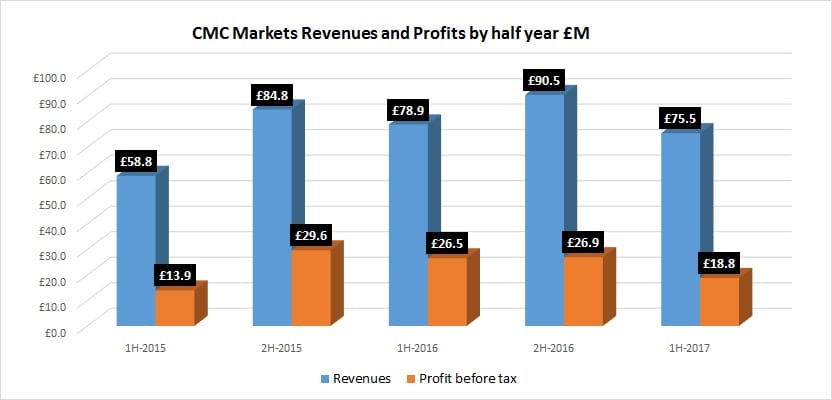 On the strategic front, CMC reported that it is delivering on its Australia stockbroking partnership with ANZ in line with the projected timetable, including hiring key project staff and initiating IT development work. The partnership is expected to bring over 500,000 additional retail stockbroking clients to CMC's existing 50,000 active stockbroking client base in Australia.
The other major issue noted by CMC was regulation. In the UK, the FCA's consultation closed on March 7 and CMC stated that it made an extensive and thorough submission. CMC says it looks forward to working with the FCA and receiving the outcome of the consultation during the summer. CMC has also responded to the BaFin consultation in Germany which closed in January.
CMC will provide full Fiscal 2017 results later in the Spring. CMC's full 2017 trading update can be seen here.