London based online FX, CFDs and spreadbetting broker CMC Markets Plc (LON:CMCX) has announced its results for Fiscal 2018 (CMC has a March 31 financial year end), indicating that the company saw steady if unspectacular growth in the second half of Fiscal 2018 (the period of October 2017 through March 2018).
Overall, Fiscal 2018 Revenues came in at £187.1 million at CMC, up 16% from 2017's £160.8 million. Growth slowed in the second half of the year, as 2H Revenues of £97.5 million were 9% up over 1H's £89.6 million.
CMC earned Profit before tax of £60.1 million in 2018, versus £48.5 million in 2017.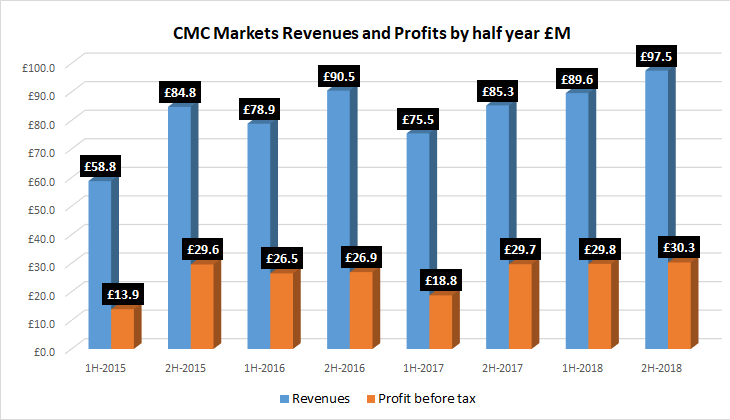 While the results presented are certainly satisfactory, they indicate that CMC is rapidly falling behind its main rivals in the UK online trading market, most notably IG Group and Plus500, which have each reported spectacular growth and results at the end of 2017 and beginning of calendar 2018 – driven largely by interest in cryptocurrency trading. CMC was fairly late in adding leveraged crypto CFDs, announcing in mid March that it was adding crypto CFDs and Spread Betting – but not for Retail clients.
Other highlights for CMC Markets for Fiscal 2018:
Increased client activity increasing net operating income to £187.1 million up £26.3 million (16%)
Growth in premium client numbers to 10% of active clients, overall active clients decreased 2%
Institutional business revenues increased by £8.7 million (38%) to £31.4 million
ANZ white label stockbroking transaction on track for delivery in September 2018
Proposed final ordinary dividend of 5.95 pence, maintaining prior full year ordinary dividend of 8.93p
Financial performance at the start of 2019 is broadly in line with prior year equivalent period
Regulatory update:
European regulatory changes to retail CFDs to take effect from 1 August with the prohibition on sale of binary products in Europe from 2 July; this product generated £4.5 million of revenue in UK and Europe in FY18
Impact partially mitigated by ANZ white label stockbroking transaction and elective professional client opt up (on track to represent in excess of 40% of UK and European revenue)
Progress made on strategic initiatives:
Established markets: maintained market leading position in Germany, grew market share in Australia and led the UK for client satisfaction
Geographic expansion: China education office opened in October, Middle East office planned for 2018
Digital: new framework rolled out targeting greater efficiencies, 59% of marketing spend now through digital channels
New products: FX Prime launched, CMC Pro released
Institutional: value of client trades up 50%
Peter Cruddas, Chief Executive Officer commented:
The strategy of attracting and retaining experienced, high value and institutional clients through technology and service is delivering strong results for the Group. We have been delivering on our strategic initiatives and these are now clearly coming through in the financial performance, where we have delivered record statutory profit before tax of £60.1 million. Now we have clarity about the regulatory changes in Europe, and with CMC's balanced portfolio of retail, professional and institutional clients across a breadth of growing geographies, we are confident that our technology and service-led strategy will continue to deliver profitable growth.
CMC Markets' full press release on its Fiscal 2018 results can be seen here.